Home

- 

The Canadian community in Bavaria
Bavarian representatives
Mar 24, 2021
The Canadian community in Bavaria
Physically, there are several thousand kilometres between Canada and Bavaria, but numerous partnerships and collaborations on various levels – be they economic, political, cultural or scientific – create a tight bond and closeness between the two regions.
Representations in both countries promote bilateral cooperation

One of the main reasons why the exchange between the two regions works so well is the numerous Canadian representations and government organisations in Bavaria. In the heart of Munich is the Canadian Consulate, which in addition to the Consular Section also employs several Trade Commissioners (Trade Commissioner Service). The Ontario Trade and Investment Office and the National Research Council Canada (NRC) office in Germany work under the same roof. The long-standing partnership and special friendship between Bavaria and the Canadian province of Québec, which has also been sealed by an official cooperation agreement since 1989, is promoted by the representation of the Québec government in Munich. Conversely, on the Canadian side, the representation of the State of Bavaria in Montreal has been strengthening the close exchange between Bavaria and Québec on various levels since 1999, in the economic sector specifically for the whole of Canada too.
Bavaria – an attractive business location for Canadian companies

The fact that Bavaria is an attractive business location has been recognised by well over 100 Canadian companies from a wide range of sectors who have set up their branches in Bavaria. These include, for example:

Upswing for trade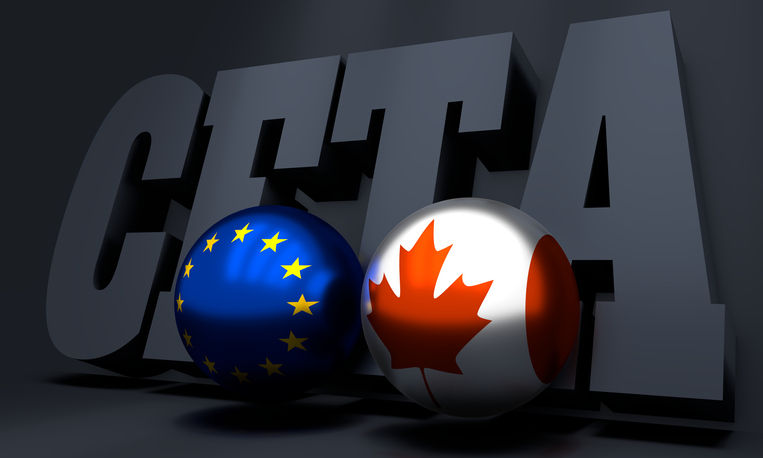 These companies benefit not least from the CETA free trade agreement, whose three-year anniversary Canada and the EU celebrated on 21.9.2020. The agreement, which is supposed to boost trade between Canada and Europe, has had an impact. CETA has already helped increase trade between the EU and Canada. EU27-Canada bilateral trade has increased by 24% in goods and 25% in services since September 2017.
Pioneering collaborations for science

In addition to the economic links, there are also numerous collaborations and alliances between Canada and Bavaria in the field of research. In addition to the activities by the aforementioned National Research Council (NRC), the Bavarian Research Alliance is home to a separate Bavaria-Québec/ Bavaria-Alberta/ International scientific coordination office. It supports exchange between the individual scientists and their institutions and continuously accompanies about 20 joint research projects from planning and coordination to implementation. The thematic focal points of the international research projects include: Energy Technologies and Renewable Energies, Environment, New Materials, Nanotechnology, Transport (e-Mobility), ICT & Complex Systems, Life Sciences & Neurosciences, Medical Technology and Artificial Intelligence.

Two current examples of these kinds of scientific collaboration projects are the "ClimEx Project" and the "Creative Cities" research project. The ClimEx Projekt project investigates the effects of climate change on meteorological and hydrological extreme events and the resulting implications for water management in Bavaria and Québec. The culturally comparative research project "Creative Cities" examines differences and similarities in the nature, emergence and spread of creativity and innovation in Germany and French-speaking Canada by comparing the cities of Munich and Montreal. While cooperation between the regions of Bavaria and Québec provides an ideal basis for a comparative study, both cities also stand out as creative strongholds. This is not only reflected in both cities' high economic growth over the last few years: while Montreal has been named a Global Creative City by UNESCO, Munich presents itself as an extremely creative and innovative city in the German economic area with a rapidly increasing number of start-ups.

Nature, culture and quality of life: maple syrup or sweet mustard?

Beyond business, science and politics, Canada and Bavaria also have a fascinating landscape in common. The Regental valley between Teisnach and Viechtach is not called "Bavarian Canada" for nothing. For it is precisely here that the untouched natural beauty of the Schwarzer Regen river shows itself at its most stunning.
About 3,000 Canadians living in Bavaria appreciate the high quality of life here: closeness to nature and a wide range of outdoor activities and culture create a feeling of home. The most prominent Canadian to currently call Bavaria home is probably Alphonso Davies, who has been causing a stir as a left-back at FC Bayern Munich since 2018. After all, he is the first Canadian football player to win the Champions League with Bayern Munich, making even the usually hockey-loving Canadians proud.

The new consul and head of the representation in Munich, David Dunkerley, also recently took office:

"Bavaria, like Canada, is a leading location for business, and particularly for those with a focus on research, design and innovation. There are many opportunities for collaboration here. I also appreciate the open and warm nature of the Bavarian people, and of course, it's wonderful to combine work and leisure with the mountains on your doorstep. Canada and Bavaria have nurtured strong bonds in many areas over the years and I'm very happy to be part of this relationship moving forward, with new and exciting projects to come."

When asked if he prefers Canadian maple syrup or Bavarian sweet mustard, he replies, "Well, I can't deny I'm a big fan of maple syrup. But that said, I've been going through my fair share of mustard, too. To be honest, I actually recommend combining them for a nice glaze with a summer bbq, it's delicious!"
In addition to the Canadian community, other countries such as , and the are also strongly represented in Bavaria and contribute to economic and intercultural exchange. Would you like to keep up to date with regular information about Bavaria? Then subscribe to our free newsletter now!
by Veronika Reichl (on parental leave)
Investor Services Digitalization & Mobility