Home

- 

Israeli community in Bavaria
Israeli community in Bavaria
Around 1,800 Israelis live in Bavaria. About 1,000 of these alone in the state capital Munich. A number of Israeli companies have also settled here and successfully established themselves on the market due to the Bavarian location factors. Various joint projects promote the good cooperation between Israel and Bavaria. Although the number of Israelis living in Bavaria is quite small, an Israeli community has developed in Bavaria, whose attitude to life can be seen and felt. We present the relationship between Bavaria and Israel.
Israel in Bavaria: facts and figures

1,870 Israeli citizens were living in Bavaria in 2019. However, this number is a minimum, as many Israeli citizens have a European second passport with which they enter Bavaria. There are currently a total of nine town and district partnerships between Bavarian and Israeli towns and municipalities. In addition, there are 12 Israelite or Jewish religious communities in Bavaria, which enable their members to practice their religion and preserve the tradition. There are also academic links between Bavaria and Israel across all scientific disciplines. There are 29 partnerships or cooperations between Bavarian and Israeli universities.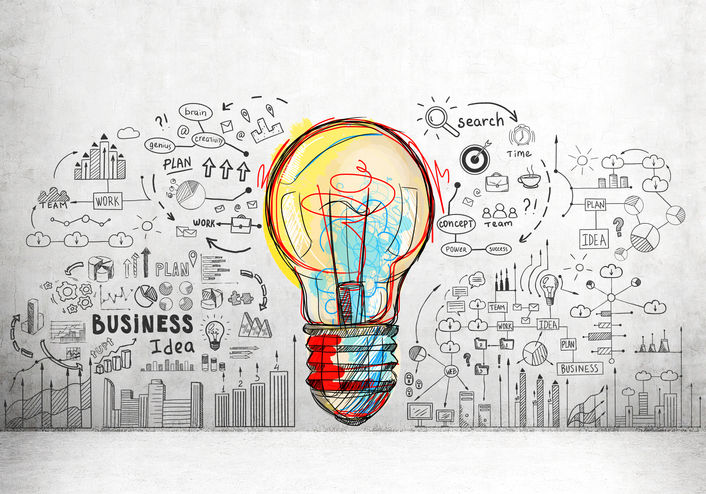 Innovative Israeli companies in Bavaria

Bavaria and Israel are efficient and reliable economic partners. This is not only confirmed by an impressive trade balance, but also by the increased investment in Israel by Bavarian global players such as Siemens, BMW, Rohde & Schwarz and Brainlab. In return, a number of innovative Israeli companies have recognised the advantages of Bavaria as a business location and have successfully settled here. For example:

Mindspace: The company provides equipped offices for coworking. SMEs, start-ups as well as founders and also corporations can come together there and work on innovative ideas. In addition to Tel Aviv and Munich, Mindspace also runs these kinds of offices in 13 other cities.

Karamba Security: This company provides host-based cyber security throughout a product's entire life cycle. For example, for automotive control units or Industry 4.0 controllers.

Aqwise: Aqwise develops and implements innovative biological solutions for water and wastewater treatment for industry and municipalities.

Cellebrite: Cellebrite's digital intelligence platform allows users to access, manage, and make the most of digital data. The company also provides data extraction, transfer and analysis devices for mobile devices that implement this software solution.

Magic Software Enterprises: The company is an international provider of software platforms for enterprise mobility, cloud applications and business integration.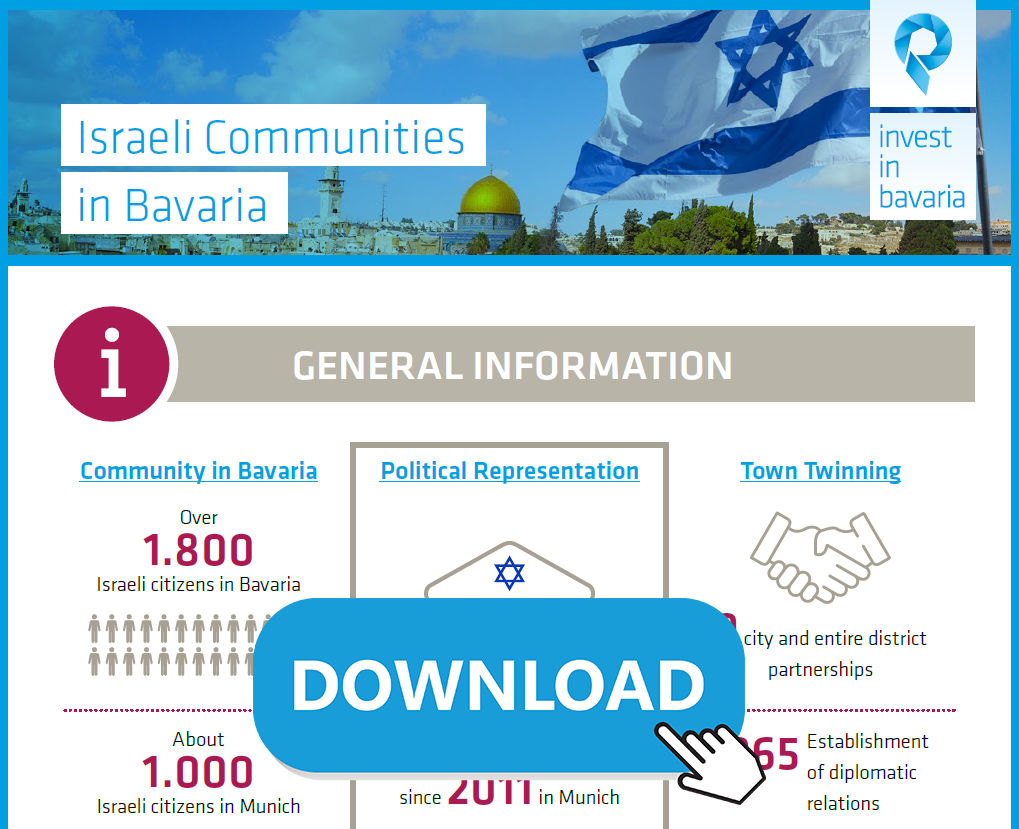 Click the picture to download the infographic.
Economic relations between Bavaria and Israel

With the "Bavaria Israel Partnership Accelerator", entrepreneurs from Bavaria and Israel work together to develop tailor-made solutions for entrepreneurial tasks in various business areas, for example Industry 4.0 & Internet of Things or automotive/smart mobility. This will support innovation projects in the field of digitisation and will also help strengthen economic relations in the long term.

The Office for Economy, Science, Technology, Education and Youth Exchange of Bavaria in Israel also aims to strengthen relations between Bavaria and Israel and to link the two ecosystems even better with each other, so that Bavarian small and medium-sized enterprises in particular have the opportunity to gain a foothold in Israel and, if possible, use the economic centre there as a door opener to third markets.

The Israel Trade Center in Munich, with its team of well-connected trade representatives, is committed to similar activities and supports interested companies from Bavaria in establishing contacts in Israel and finding opportunities for cooperation.

The annual Digital-Life-Design (DLD) conference and innovation platform is another link between Bavaria and Israel. The cities of Munich and Tel-Aviv both host this event, which brings together start-ups, companies, entrepreneurs and influential opinion leaders from the technology sector. More than 100 different speakers speak on a wide range of topics related to the digital scene. Panel discussions are also held with experts from various fields..

Bavaria has a foreign representative office in Israel to maintain and further strengthen the links between the two countries, their companies and start-ups.

Bavaria and Israel – together for more democracy

Bavaria is facing up to its historical responsibility and since the establishment of diplomatic relations in 1965, it has continuously worked to ensure that friendly relations are established and maintained both at official level and in the social sector. The Israeli Consulate General, which has been located in Munich since 2011, and the strong Israeli community in Bavaria are proof of the mutual friendship and acceptance.

The "Together for Democracy. Israel and Bavaria" alliance project was launched to raise awareness among the younger generation of the crimes committed during the Second World War. This initiative aims to strengthen democratic and pluralistic values among students in Israel and Bavaria.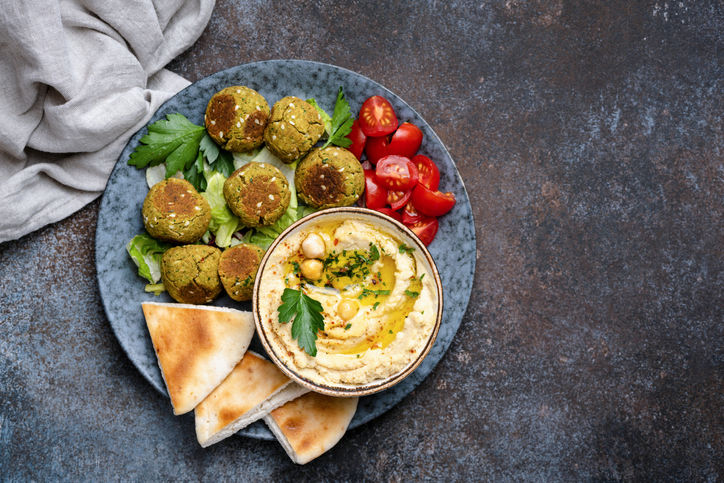 Israeli culture in Bavaria

As already mentioned, there are several religious communities where the Israeli community comes together in Bavaria to preserve their culture and traditions. Many Bavarian citizens have also taken a liking to this culture. For example, there are many Israeli restaurants in Bavaria that offer typical dishes such as hummus, shakshuka or Israeli pastries. The Israeli national dish falafel, fried balls of puréed beans or chickpeas, is also very popular in Bavaria. Kosher restaurants that adhere to Jewish food laws can also be found in Munich, for example. The Israeli martial art Krav Maga is also taught at many Bavarian martial arts schools for self-defence purposes. Some of this self-defence system's special techniques are also learned by the police and military forces.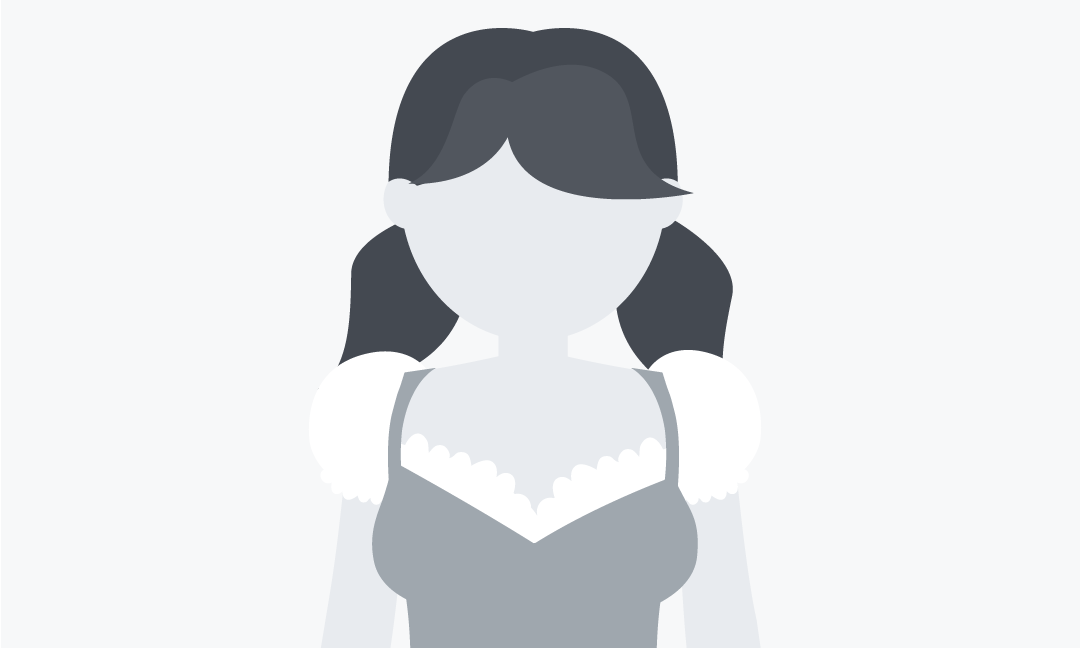 by Mirjam Eisele
Deputy Head of Investor Services