Home

- 

A piece of Silicon Valley in Upper Franconia – two young women bring the Bavarian region's versatile job culture to the big time
Businessplan
Jan 21, 2022
A piece of Silicon Valley in Upper Franconia – two young women bring the Bavarian region's versatile job culture to the big time
After completing their Master's degrees, Olivia Hofmann and Patricia Knoll turned their backs on the big city and the prospect of highly paid permanent positions. Inspired by their work in start-ups in Berlin and the Silicon Valley, the two of them wanted to start up themselves and connect businesses with workers in rural areas.
The young women discarded the concept of the traditional job search and created a platform that goes beyond generic job advertisements. With their view that "Salary is no longer everything", they want to facilitate a new connection between companies and applicants. To realise their idea, they returned to their home region of Upper Franconia to found their job portal Jobtrüffel together with IT specialist Vladislav Chetyrkin.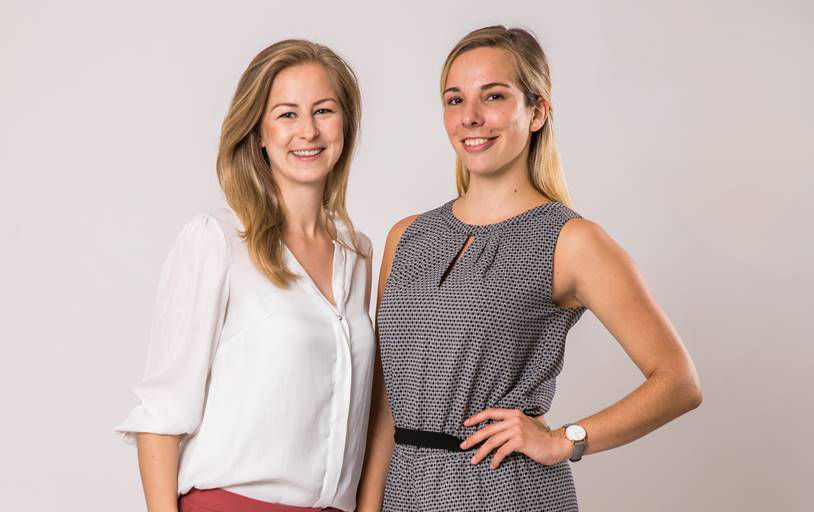 Co-Founders Olivia Hofmann and Patricia Knoll © Jobtrüffel
The inspiration for their start-up came to the young women while studying for their Master's degrees, when co-founder Olivia Hofmann was looking for an exciting working student position in her home town of Bayreuth. However, the lack of an overview of the companies' offers and the lack of clarity about vacancies made her search much more difficult. It was only thanks to tips from family and friends that she discovered the huge variety of companies in her home region and the potential hidden in them: modern companies, "cool" employers and exciting projects. This potential must definitely not remain unnoticed, the two students thought to themselves.

Highlighting local companies' potential in a contemporary way

Their idea was then fleshed out in a seminar at the end of their Master's degree, during which the young women dealt more intensively with the topic of "job search" and carried out their own research and studies. The results made it clear to them that the job search has changed and evolved. The pure search for work and the financial aspect are often no longer the first priority, and in fact a multitude of other factors such as family, leisure time and quality of life come into play. Based on these findings, the two students finally realised that a new job search was needed on the market that would do justice to this evolution.

From Silicon Valley back to Upper Franconia

After completing their Master's degrees, the two first moved to Berlin and then to Silicon Valley in San Francisco, where they completed internships at start-ups. The experience they gained there encouraged them to further develop and realise their "Jobtrüffel" project they started as students. Together with the IT specialist Vladislav Chetyrkin, they began to build their job portal.
Their vision was to make the job search a real experience; as exciting as booking a ride through Uber; as modern as the feeds on Instagram and as easy as finding accommodation through AirBnB. The founding team created a platform that doesn't have to fear comparison with other online platforms in terms of user experience and customer centricity and provides job seekers with an exciting and contemporary job search experience.
But job seekers are not the only ones who benefit from Jobtrüffel. The platform enables local companies to market themselves in a new way and thus find the right employee for them. The potential of regional employers is not hidden behind an expressionless job advertisement, but presented in a contemporary and modern way – with the help of emotional images, informative videos and appealing employee benefits (job truffles).

Portal from the region for the region

The decision to venture into building their start-up in Bayreuth was made quickly. For the two women, their home region has the potential to be home to a new start-up scene: location factors such as low cost of living, short distances and a family atmosphere favour the step into self-employment and ultimately also convinced the two. The founders had already appreciated the close contact with their professors and contacts during their studies. Through their employment at the University of Bayreuth, they were already able to build up a network and establish important relationships during their studies. This also includes an investor from the Upper Palatinate, whose contact they received through their business angel Kay Schulz, who also supported and coached them intensively. In addition, Invest in Bavaria provided support with issues regarding funding, networking with partners and the search for a suitable location.
Jobtrüffel is a portal from the region for the region: Patricia Knoll and Olivia Hofmann are pursuing the goal of counteracting advancing urbanisation and highlighting the advantages of living in rural areas with Jobtrüffel. And doing so successfully thanks to modern location marketing, for example by the start-up providing its users with drone flights over the city and countryside, beautiful pictures and the right amount of interesting input. Individual cities can also create their own profiles for this on the portal to market themselves or the region.
The start-up is currently in the process of intensively acquiring attractive employers from Upper Franconia and the surrounding Upper Palatinate region. In addition, the social media presence is being further developed to attract new followers and expand awareness.
by Maureen Stender
Investor Services Energy Technology | Human resources issues