Home

- 

Building a hydrogen mobility ecosystem: how Bavaria is getting a head start thanks to cross-industry innovation
Hydrogen technology
Nov 22, 2022
Building a hydrogen mobility ecosystem: how Bavaria is getting a head start thanks to cross-industry innovation
Hydrogen is a key building block in reducing emissions in the mobility sector, especially in areas where electrification falls short. But to fulfill the potential of this technology, major R&D efforts will be required over the coming years. As part of its goal to become climate neutral by 2040, Bavaria developed a hydrogen strategy early on. It foresees that companies, R&D centres and start-ups work with the public sector. Together, they are ideally positioned to forge the strong partnerships needed to push the boundaries of this new frontier.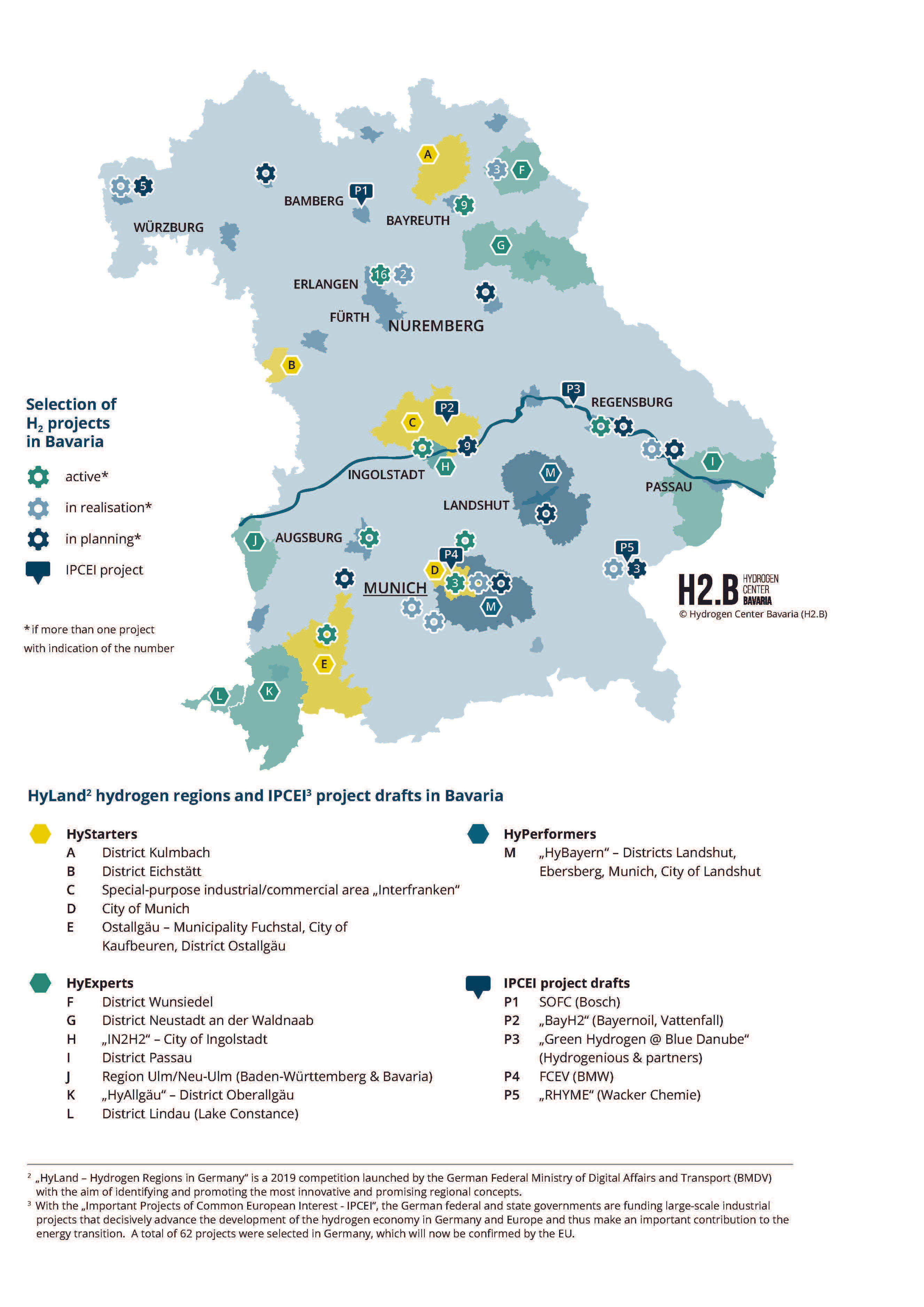 ©Zentrum Wasserstoff.Bayern (H2.B)
Have a look at some of its key projects and a selection of initiatives below for inspiration:
Public sector: creating platforms and networking opportunities

Bavaria developed a hydrogen strategy early on to become climate-neutral. In a valuable knock-on effect, several important platforms were set up to drive progress in the field.
H2.B
The State of Bavaria founded the Center Hydrogen.Bavaria (H2.B) to consolidate and expand the strong position of Bavarian industry in shaping the future hydrogen economy. It brings together central players in industry, science and politics to accelerate this topic swiftly to make the use of hydrogen an everyday occurrence in broad practical applications.

Hydrogen Alliance Bavaria
The Hydrogen Alliance Bavaria is a joint platform for networking and combining the knowledge and interests of hydrogen stakeholders from industry, science and politics. It is headquartered in Bavaria and is coordinated by the Center Hydrogen.Bavaria (H2.B).

Nationales Technologie-Anwenderzentrum Wasserstoff (WTAZ)
As part of the National Hydrogen Strategy (NWS), the WTAZ is a hydrogen innovation and technology center for facilitating the transfer of technology from research to industry. It begins with applied research, takes it through development, testing and certification, and finally to standardisation.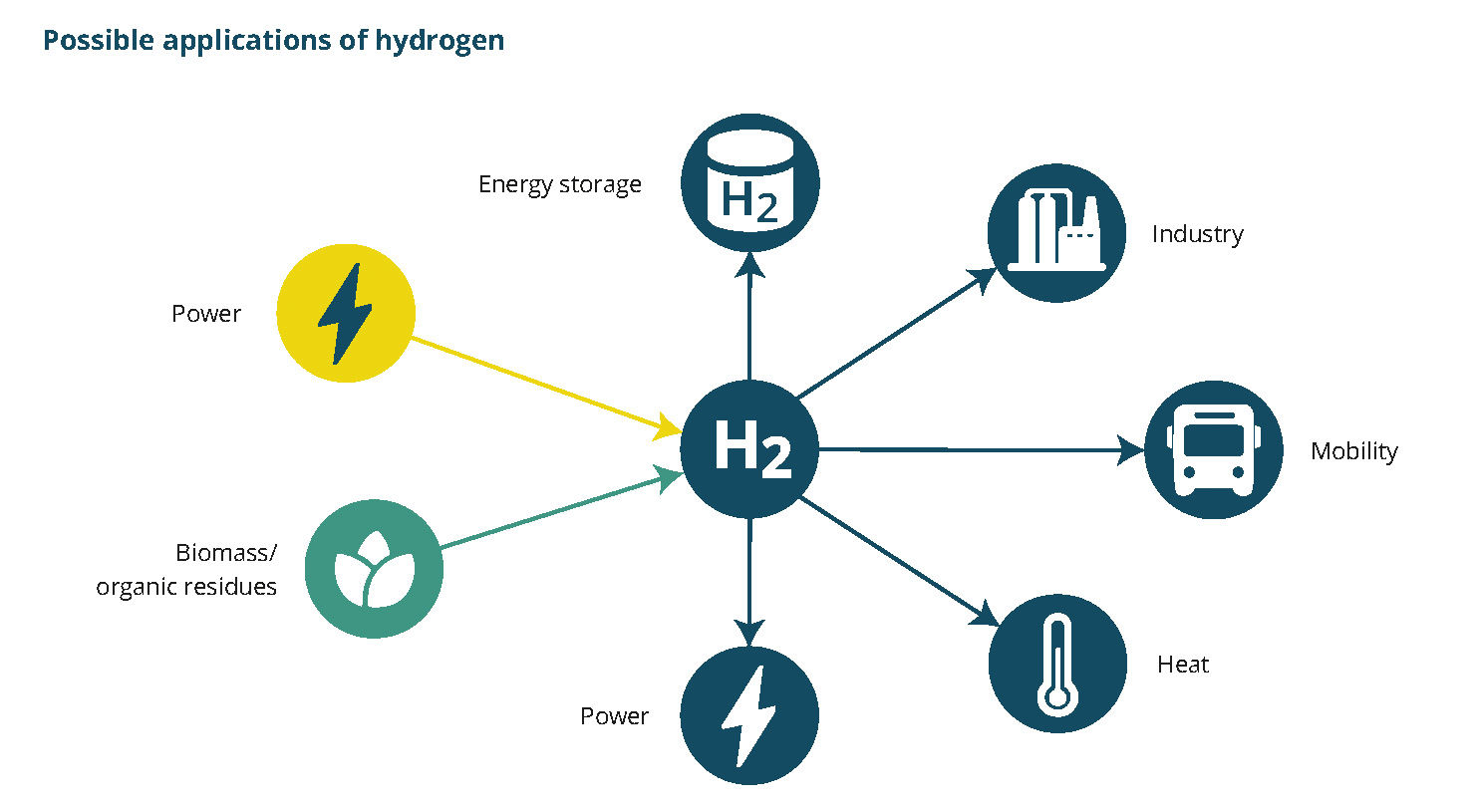 ©Zentrum Wasserstoff.Bayern (H2.B)
Start-ups: turning cutting-edge R&D into business opportunities

Many start-ups working in hydrogen technology are developing business ideas based on R&D projects. A lively investment scene helps them move ahead and scale up quickly.
Hydrogenious LOHC Technologies
A brainchild of scientists at Friedrich Alexander University of Erlangen Nuremberg, Hydrogenious LOHC Technologies focuses on the hydrogen logistics. The company has now found a way to store the fuel such that it stays stable, with the Liquid Organic Hydrogen Carrier (LOHC).
"Hydrogen is the petroleum of the future," says Daniel Teichmann, the company's founder and CEO.

ARTHUR BUS
Arthur Bus produces state-of-the-art, zero-emission buses for a greener, cleaner and more sustainable future. Just one year after its founding, the first hydrogen bus developed in-house was ready to hit the streets. Their hydrogen bus is said to be the most advanced in the world. Just recently, the company was announced as one of the award winners of the European Hydrogen Transport Dialogue 2022.

KEYOU
The company KEYOU converts existing diesel and gas engines into hydrogen engines. Such hydrogen retrofit technologies are a fundamental topic for trucks, ships and trains.
They have developed the world's most powerful hydrogen combustion engine based on its proprietary lean-burn process (engine operating strategy for H2). KEYOU have already sold this concept several times to OEMs, where it has been successfully integrated into existing engine platforms.
Corporations: building the backbone of the future hydrogen economy

BMW
BMW has been conducting research for years on hydrogen-powered cars and have been partnering with Toyota since 2013 on industrial-scale hydrogen fuel cell drives. BMW will launch the BMW iX5 Hydrogen in a small series before the end of 2022. It will use a second-generation fuel cell, which has a continuous output of more than double its predecessor.
BMW's hydrogen programme is part of the car manufacturer's vision to become the most sustainable car manufacturer in the world.

Siemens Energy
This subsidiary of the Bavarian blue chip company is on a mission to meet the growing global demand for energy - while simultaneously transitioning to a more sustainable world. They took a significant step towards this goal by generating green hydrogen from renewable energy using PEM electrolysis.
Elsewhere in Bavaria, companies like MAN Energy Solutions or MTU Aero Engines are working full speed to decarbonise air and ship transport. to learn more.

Universities: thinking ahead through world-class research

Bavaria is home to many leading universities and hydrogen is at the top of their agenda. Here are two examples of projects in this area:
TUM EReTech project
This project is EU-funded and coordinated by the Technical University of Munich (TUM). It foresees building a pilot plant for producing hydrogen from biogas in Bavaria. It will take advantage of a new technology that is expected to increase the efficiency of the production process by integrating resistive heating into the chemical reactor.
The plant is being built near Eichstätt and will be equipped to supply 130 tonnes of hydrogen per year to be used for hydrogen filling stations, for example. Completion is scheduled for 2025.

Bavarian Hydrogen Center (BHC)
This project involves the cooperation of the FAU with the Technical University of Munich, the University Bayreuth, the Fraunhofer UMSICHT and the Hochschule Amberg.
The scientists involved in these projects seek ways to extract and use hydrogen from exclusively sustainable sources. They are also promoting the systematic expansion of chemical energy storage using hydrogen.

Thanks to these and other efforts, Bavaria has a head start: a complete H2 mobility ecosystem is in the making. This includes hydrogen production and distribution as well as the development and production of hydrogen vehicles.

Bavaria's vision of building a climate-neutral ecosystem that contributes to the global energy transition will become a reality - thanks to strong collaboration.

Hydrogen is a prime example of how cross-industry innovation creates business opportunities in Bavaria.
by Maureen Stender
Investor Services Energy Technology | Human resources issues