Home

- 

Blockchain in Bavaria: becoming a digital pioneer through research and a new blockchain strategy
Blockchain in Bavaria: becoming a digital pioneer through research and a new blockchain strategy
Blockchain technology is one of the greatest digital innovations of our time due to its many and varied applications. Business, science and society are currently testing various fields of application in equal measure to implement new business models and more efficient processes. At the forefront are also the sectors that are so important for Bavaria, such as the automotive industry, the logistics sector and Industry 4.0. Bavaria has the declared goal of establishing an internationally competitive blockchain ecosystem. What is the current status in Bavaria with regard to this high-tech technology? What efforts and strategies are being pursued in Bavaria with regard to blockchain? We give an overview of the latest initiatives from research and industry and present some of the Bavarian blockchain start-ups.
How blockchain works

The blockchain technology is a decentralised data management system, which is stored multiple times and encrypted on the Internet. Its unique combination of cryptographically guaranteed security in conjunction with economic incentive systems creates trust between users. This makes it possible for them to arrange the transaction of data, values, ownership and usage rights as well as digitally displayed goods within the system. This implementation is efficient, transparent and clearly assignable for all the stakeholders involved.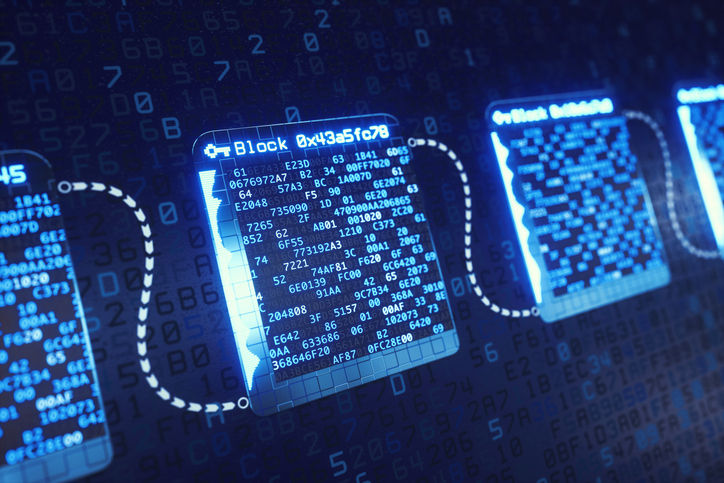 Blockchain is becoming increasingly important in Bavaria

Bavaria recognised the opportunities and potential of blockchain technology early on. For this reason, the development of the technology is constantly being advanced and business and science are being supported equally. Following the decision to set up the "Bavarian Center for BlockChain – [bc]2" to pool expertise, initiate concrete projects and network the stakeholders, the Bavarian State Government has now also presented a blockchain strategy. Many have already been implemented in Bavaria. The Blockchain Bayern e.V. association is committed to the dissemination of blockchain information and industry representatives shared ideas in Fürth at the cluster meeting in 2019. The current development of Bavarian companies and research in the field of blockchain is also impressive.

The Bavarian blockchain strategy

With its Blockchain-Strategie, the Bavarian State Ministry of Digital Affairs is underlining that Bavaria is not just watching the further development of this technology, but also actively promoting, supporting and implementing it itself. Three key focal points are anchored in this:
Bayern.Block: Establishing Bavaria as an internationally leading blockchain location
Bayern.Chain: Building up its own expertise, by initiating and promoting concrete applications
Bayern.Trust: Guaranteeing a pragmatic and informed approach to technology and its applications for its citizens

Bavaria is promoting an attractive environment for the advancement of the technology to develop new cross-industry innovations in connection with blockchain. As part of Bavaria's High-Tech Agenda, the state's technology offensive will focus on quantum technology and artificial intelligence as well as blockchain. Research projects, new innovations and the targeted training of future experts will be implemented with an investment volume of 2 billion euros. With this agenda, Bavaria is consolidating its pioneering role in technology and laying a secure foundation for further expansion. Bavaria also intends to test applications of the technology in its own administration. Information and further training opportunities are also being implemented in line with the strategy to make the technology more relevant to society.

This is also demonstrated by the Munich Chamber of Commerce and Industry (IHK) and Bavarian Digital Ministry's blockchain initiative, which the Bavarian Center for BlockChain [bc]2 will also play a role in. The initiative will ensure the simple verification of credentials and certificates using a web application in future. The companies will then be able to verify authenticity using blockchain based values without having to store personal data.
Blockchain partnership between the Munich Chamber of Commerce and Industry (IHK) and the Bavarian State Ministry for Digital Affairs (StMD) ©StMD
Blockchain research in Bavaria

Major corporations and start-ups also benefit from the excellent research landscape in Bavaria. Universities' interdisciplinary research projects, such as the TUM Blockchain Research Cluster, clearly show the possibilities for cross-industry innovation. The Fraunhofer Blockchain Lab , based in Bayreuth, is constantly working on identifying new potential and optimising existing transactions. Active research is also being carried out on creating new blockchain innovations. At the same time, with "Blockchain for Education" the Fraunhofer AISEC mit "Blockchain for Education" is implementing a life-long, forgery-proof digital learning certificate with the help of the blockchain.

Blockchain in Bavarian entrepreneurship

Start-ups in particular are playing an important role in the development of blockchain technology. The Bavarian state capital is one of the three leading locations in Germany in the field of blockchain start-ups. Several large companies based in Bavaria such as Airbus, Allianz, E.ON or BMW are already involved in international blockchain mergers and are conducting their own research into the application of this technology in their companies. For example, BMW is not only involved in the Mobility Open Blockchain Initiative (MOBI) but is also working with the start-up VeChain, which is part of the BMW Start-up Garage, on the verification of vehicle data using blockchain. A digital passport is intended to prevent fraud by manipulating vehicle data, for example the mileage. BMW is also already testing the use of blockchain technology for financial services. In view of the potential and cross-industry opportunities created by blockchain, it is of great value that start-ups can specifically advance further development in Bavaria in cooperation with innovative SMEs and large corporations.
Blockchain technology is used in many areas
Bavaria is well on its way to becoming a crucial blockchain location

Blockchain technology has already made a significant contribution to digital transformation, even though it is only at the beginning of its innovation cycle. The Bavarian blockchain strategy and successful implementation of blockchain in business and science in Bavaria to date show that Bavaria is on the ideal path towards becoming a leading international blockchain location and will expand its digital pioneering role over the next few years.
by Johanna Hebestreit
Senior Manager Investor Services