Home

- 

A perfect starting point: from Bavaria out into the world
A perfect starting point: from Bavaria out into the world
Bavaria attracts companies from all user industries. It's not just the outstanding initial economic conditions and excellent research landscape that is responsible for this but the smooth-running infrastructure also makes a major contribution to the location being so attractive.
Global companies such as Adidas, MAN, MTU Aero Engines or Siemens do not have their head offices in Bavaria without good reason. What also probably played a crucial part in the decision is the central location, which is what sets the State of Bavaria apart – and not just in Europe but worldwide. The favourable links to its neighbours Switzerland, Austria and the Czech Republic guarantee lively exchange with these countries – an important economic factor for strong Bavarian export heavyweights.

Air traffic hubs in Munich and Nuremberg

Companies with further reaching business relationships are also well looked after in Bavaria though, as thanks to the three major airports in Munich, Nuremberg and Memmingen connections are guaranteed all over the world.


For example, the Franz Josef Strauss airport in Munich is one of the most important air traffic hubs in Europe with an annual volume of 40 million passengers. At the same time, the airport has been more than just a mere reloading point for a long time and has already become an economic factor itself: more than 550 businesses in different industries are represented on the Airport Campus, the Lufthansa corporation and Munich Airport are the two biggest employers in the Munich microcosm and employ approx. 20,000 of the more than 32,000 employees in total. 2016 was a milestone for the further development of this hub, as the new satellite building for Terminal 2 was commissioned in April. The terminal expands the airport's capacity by eleven million passengers a year.

Besides Upper Bavaria, other regions also benefit from a strong infrastructure and the associated business. For example, international corporations such as Siemens, Schaeffler or Adidas are based in Northern Bavaria and a smooth-running airport with global connections is a not insignificant location factor for them. Nuremberg, for example, impresses due to its geographical proximity to Germany's largest airport, which is not even 200 kilometres away from the Franconian metropolis. Nevertheless, the Bavarian economy recognises the need for an efficient airport between the two hubs of Frankfurt and Munich, which is provided by the Albrecht Dürer Airport whose catchment area not only extends from Franconia to the Upper Palatinate but also to Thuringia and Saxony. Its central location in Nuremberg and 50 non-stop connections to many European and North African destinations as well as worldwide connecting flights make the airport one of the most popular in Germany among business travellers.

Good connections on land and water

Apart from fast connections by plane, many primarily intra-European destinations can be reached easily from Bavaria by road and rail. Deutsche Bahn not only offers routes within Germany with fast connections, for example to Berlin or Hamburg, but also takes you quickly to our direct neighbours in the Czech Republic and Austria. Last but not least, the waterways are a considerable economic factor that Bavarian companies can rely on. The Rhine-Main-Danube Canal links the North Sea to the Black Sea as part of the Europe Canal. By the way, the idea is also pretty old – Ludwig I of Bavaria was already aware of the importance of such a link and had the Ludwig Canal initiated between 1836 and 1845.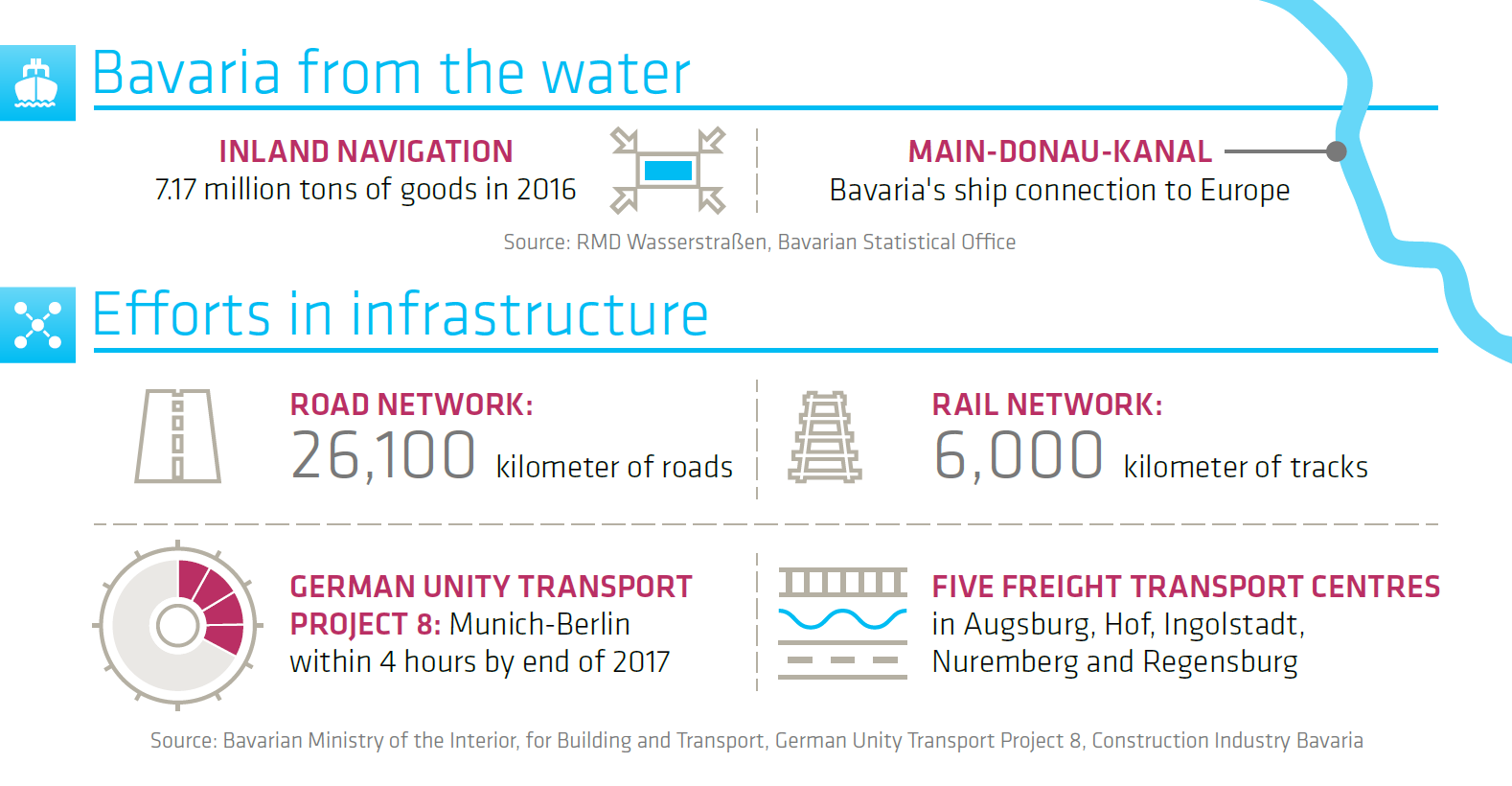 Whether it's on land, water or in the air: the Bavarian transport routes are superbly developed and offer short distances not just to nearby neighbours but all over the world.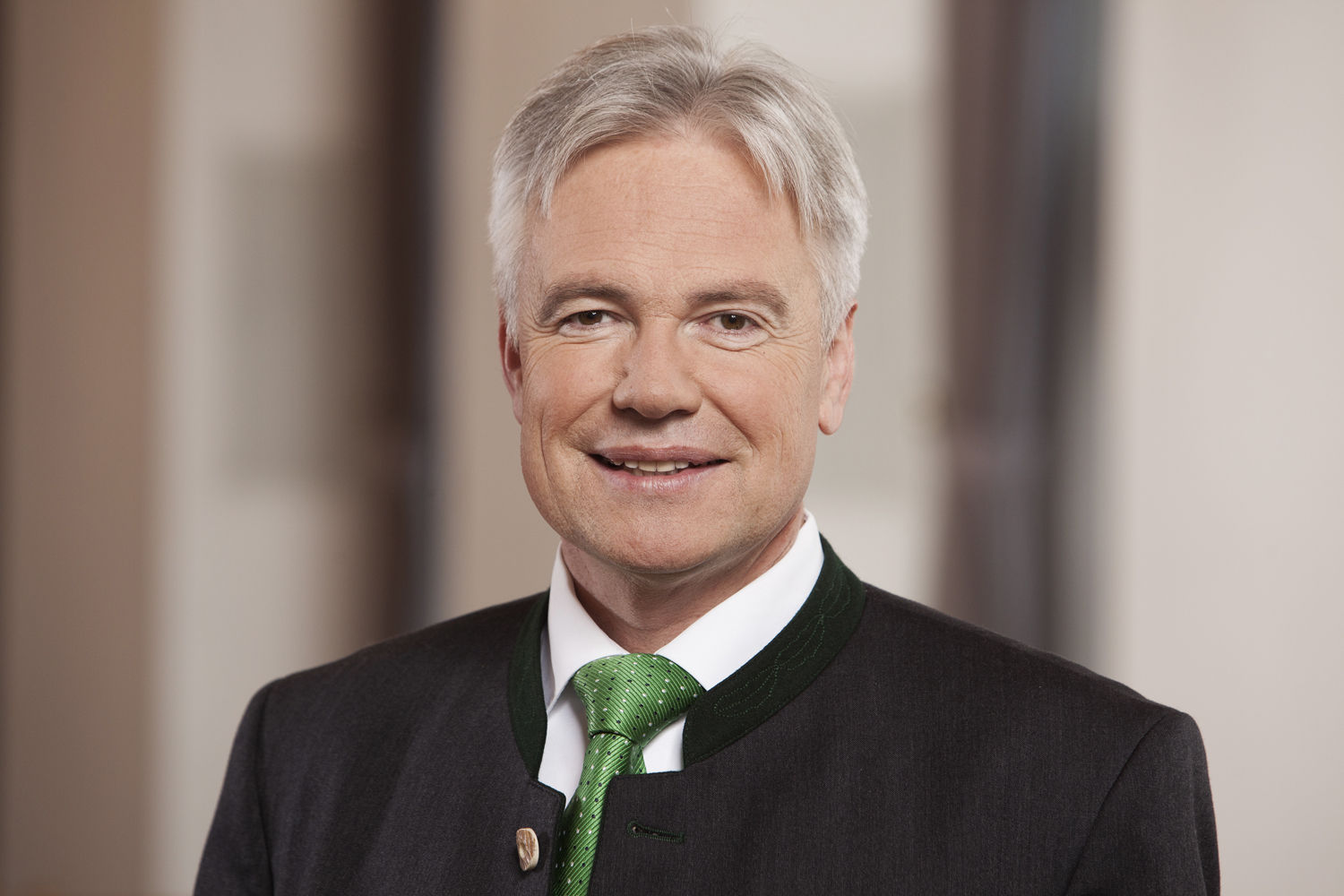 by Christian Weber
Head of Invest in Bavaria at Bayern International