Home

- 

A holiday in the countryside – long-distance hiking trails in Bavaria
A holiday in the countryside – long-distance hiking trails in Bavaria
Due to the ongoing corona pandemic, many people are no longer travelling to exotic destinations. But rest and relaxation from the ever-repeating daily routine need by no means be left out. Due to the easing of measures, excursions within Germany are once again possible without any problems and Bavaria in particular is once again proving to be an attractive holiday destination. Because in nature-loving Bavaria there is a multitude of hiking trails, where hiking enthusiasts can enjoy unforgettable experiences in impressive landscapes with traditional food. In this article we show which long-distance hiking trails in Bavaria are definitely worth a walk.
What distinguishes the long-distance hiking trails in Bavaria
In addition to the lively, technologically advanced cities, such as Munich and Nuremberg, Bavaria is distinguished by one thing in particular: the lush green forests and impressive mountains. So some hiking routes run through the whole of Bavaria, from sleepy fields to the Alps. But what makes a long-distance hiking trail? The most common definition is that of trails that a hiker has to tackle in several stages. This is understandable, as Bavaria's long-distance hiking trails often stretch for several hundred kilometres. However, they are not only a favourite for long-time hiking enthusiasts, but also offer tourists from all over the world an intensive recreational experience. The trails are well signposted and usually follow a specific theme. For example, the Keltenerlebnisweg, which is 254 km long, leads excursionists on the trail of the Celts from Bavaria to Thuringia.
Long-distance hiking with distinction – "Qualitätsweg Wanderbares Deutschland"
Despite the up-close impressions of the sun, wind and weather, long-distance hiking in Bavaria means no deserted and overgrown footpaths. Without restricting the experience in close touch with nature, Bavaria's long-distance hiking trails offer safe paths with regular opportunities for a break. The rating awarded by the German Hiking Association "Qualitätsweg Wanderbares Deutschland" assures that the trails in Bavaria have a certain standard. It confirms the quality of the trail infrastructure and provides hiking guests with orientation and guidance for making decisions. As a result, the trails are tested for safety and divided into easily manageable sections. These are regarded as recommended guidelines; visitors can plan longer or shorter routes on their own depending on their personal hiking experience.

From the city to nature and back
For those who do not feel lost among the trees, the Goldsteig is absolutely highly recommended. The well-known quality hiking trail begins in the Upper Palatinate Forest and leads over 21 to 23 day stages through the picturesque Bavarian Forest foothills directly to Passau. The path is accessible in both directions and there are a large number of connecting trails with appropriate markings leading to the main path. In the Bavarian Forest National Park alone there are about 1,100 km of long-distance hiking trails. Some of these are cross-border and offer many opportunities to enter the network of trails.

The Altmühltal-Panoramaweg is also considered one of the most beautiful hiking trails in Bavaria. The long-distance hiking trail in Bavaria leads 200 km along the Altmühl river from Gunzenhausen to Kelheim. It inspires above all with varied landscapes and diverse cultural experiences. The good transport links make it easy to get to and from and the desired path can be planned individually in advance. The Altmühltal Nature Park also includes other well-known trails such as the Frankenweg, the Jurasteig or the Limes hiking trail. Those who do not want to choose a single trail will therefore find a wide selection here.

Besides the closeness to nature, other hiking routes in Bavaria combine adventure with culture and enjoyment. An example of this is the Donau-Panoramaweg. This route leads in ten adaptable stages past romantic river landscapes, introduces tourists to the individual regions' traditional cuisine and also provides insights into important cities along the way. Whether you are planning a day trip or really want to go for a long hike, the route has a lot to offer. Hikers can marvel at sights such as the Walhalla in Donaustauf or Baroque Passau and enjoy delicacies such as hearty Deggendorf dumplings or a piece of Agnes Bernauer cake in Straubing.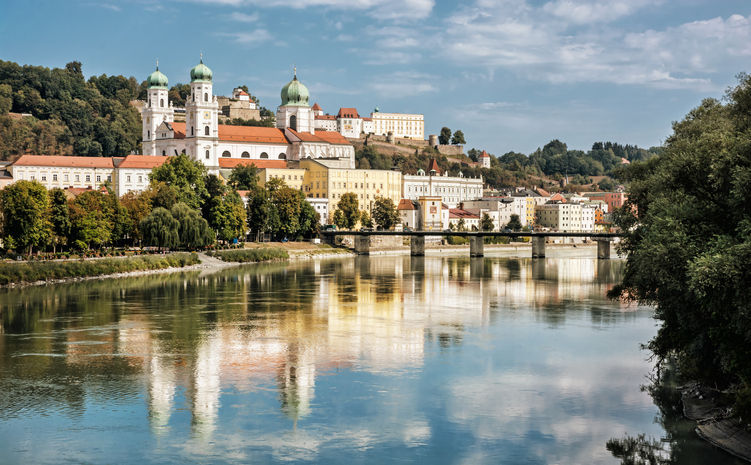 Experience a piece of the past on a pilgrimage in Bavaria
Those interested in history and religion will really get their money's worth with the Franconian Way of St. James in Bavaria. This long-distance hiking trail in Bavaria is part of the German network of the European Ways of St. James, which all have Santiago de Compostela as their destination. While in the past they served for many years as a path for pilgrims to the tomb of St. James, nowadays both believers and hiking fans enjoy old churches and a warm welcome in a rest area. Along the Franconian Way of St. James through the Upper Palatinate, this long-distance hiking trail leads from Bavaria to Franconia via Nuremberg to Rothenburg ob der Tauber. The path is marked with the blue-yellow shell sign, which indicates the direction of travel. There are parishes along the way at regular intervals, offering hikers inexpensive accommodation, hearty meals and a tasty Bavarian beer. By the way, any interested can find out everything about "liquid bread" in Bavaria in our article.
Between mountains, lakes and meadows in Allgäu
The Allgäu is already known for its lush meadows and breathtaking Alpine landscapes. It is therefore not surprising that this region is particularly attractive to hikers. The proximity of the Alps gives the hiking adventure a special touch. There the paths lead over hills and forests, wind their way past fields and pass rivers and lakes. Long-distance hiking trails in the Allgäu, such as the Wandertrilogie Allgäu, offer the perfect way to slow down surrounded by nature. There is something for everyone here, because the network of long-distance hiking trails guarantees a multifaceted experience on its 876 km. The three routes in total lead over 54 stages through different altitudes. Hikers can decide for themselves whether they prefer to climb heights on the Allgäu peaks, linger in the water-rich pre-Alpine landscape next to rivers and romantic lakes, or take a relaxing walk through gentle meadows.

It doesn't always have to be relaxing on a beach
If you are looking for the perfect compromise between adventure and relaxation, the long-distance hiking trails in Bavaria offer a unique experience. Instead of flying from one stressful place to the next in regions flooded with tourists, a train or car ride, good clothing and a packed rucksack is all that you need. Hiking has long since ceased to be the supposed hobby of pensioners, as people of all ages have now been gripped by the wanderlust and enjoy the activity. Long-distance hiking in Bavaria brings people into harmony with nature, provides insights into the regional culture and makes every stopover a real treat for the palate. Whether you're a mountaineer or meadow hiker, everyone gets their money's worth in Bavaria. So what are you waiting for: In stillness lies strength!