Home

- 

5 minutes with … Laurens Faure, CEO and co-founder of Sandhelden GmbH & Co. KG
5 minutes with ...
Jan 25, 2019
5 minutes with … Laurens Faure, CEO and co-founder of Sandhelden GmbH & Co. KG
Interior made of sand and with a 3D printer into the bargain – this unusual idea comes from Laurens Faure. The company in Gersthofen near Augsburg uses 3D printers to produce, for example, aesthetic washbasins, beautifully designed vases and fascinating bowls. The start-up's customers can personally configure their interior design objects to suit their tastes online. This shows that the innovative use of different materials is in more demand than ever, not just in commercial use.
Traditional plumbing objects are usually cast. How did you come up with the idea of 3D printing?
To start with, it was all about making a prototype for our designs. At that time, we had already had it printed in 3D printing, but made of plastic. Not exactly the most exciting material for plumbing and therefore not really economical. But then we came into contact with 3D sand printing and quickly saw the potential that the process itself has to offer. On the one hand, we are offering a completely new material on the market but on the other hand also the possibility of offering completely customised one-off products. Both are our biggest competitive advantage on the market today and distinguish us.

And why do you use sand as a material for your washbasins, what are the advantages of your processes for your customers?
Back then, we stumbled across sand because the 3D printing technology we use mainly works with it. But it was also a stroke of luck for us, because sand is associated with recreation and also has thermal properties that have advantages in the bathroom. For example, the material stores heat really well. The sand, after we've processed it, also has a high frostiness, which is classified in the reinforced concrete sector with pressure loads.
Apart from the sand, the technology also offers an incredible advantage over conventional 3D printing processes. For example, we can print up to 60 sinks within 24 hours. This allows us quantities beyond small series.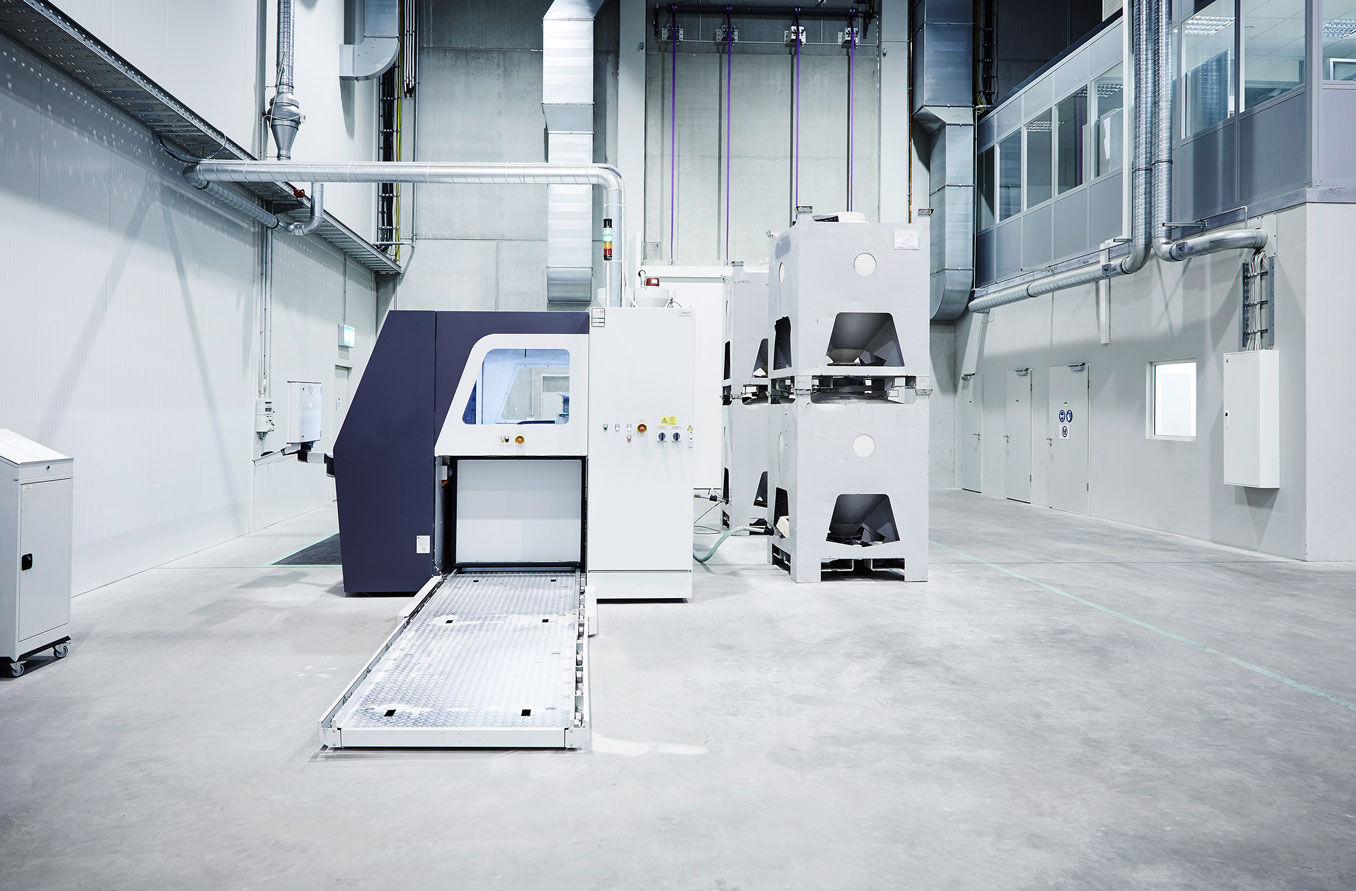 You originally come from Lübeck in Schleswig-Holstein but have in the meantime wound up in Gersthofen in Bavaria. What were the reasons and motivation for you changing location?
First and foremost, most of our development partners are based in Bavaria. Bavaria is one of the world's leading regions in the additive manufacturing (3D printing) sector. It is therefore ideal for us mainly due to its various machine manufacturers (ExOne, Voxeljet, EOS, etc.). Furthermore, the economic conditions as well as the promotion and support by the Bavarian State (innovation voucher Bavaria) have been an important factor in favour of this location. The nice people and incredibly beautiful landscape are of course the icing on the cake.

Which challenges are you going to have to face with your business model?
We are just a small manufacturer in the huge plumbing market, which of course requires us to strategically explore other directions to create a presence. In marketing, we mainly focus on social media (Instagram, etc.), which are used by the large majority of our potential customers. With sand, we are also offering a new material on the market, which has generated both enthusiasm and scepticism among our customers. It was therefore very important for us to gain positive credentials and strong partners for our idea in order to build trust. These were definitely the biggest hurdles for us.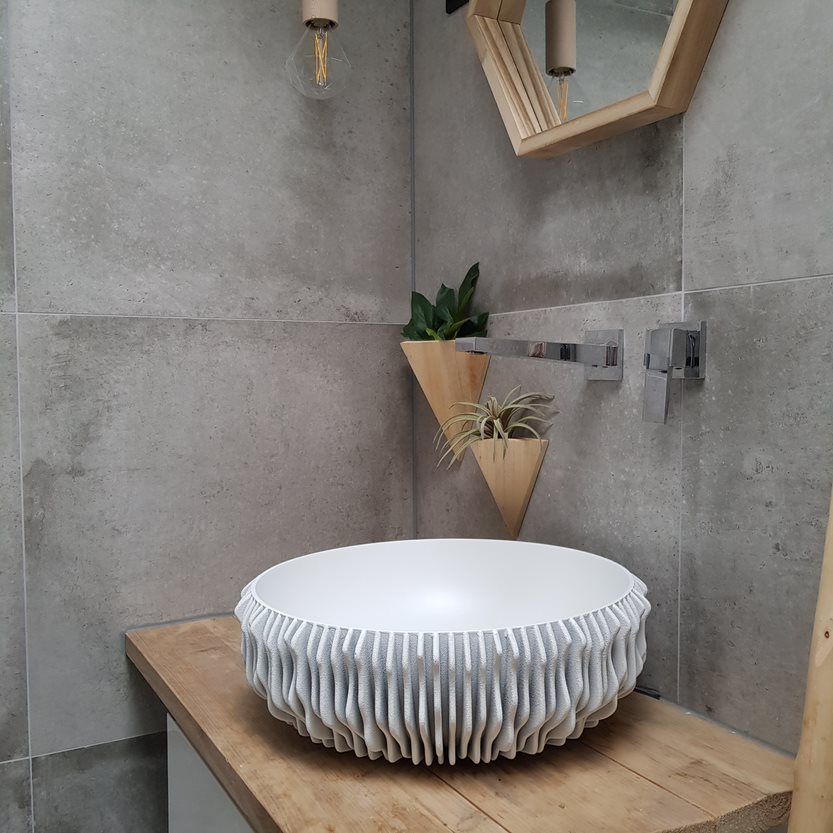 What was the greatest success in your company history so far and the greatest setback?
The greatest success for us was the sales partnership with our plumbing wholesaler, the GC Group. Thanks to this, we are currently available in more than 200 ELEMENTS bathroom showrooms in Germany and Luxembourg and have been represented with products at just under 20 exhibitions so far. We are of course constantly expanding the latter.
I would say our greatest setback was our naivety at the beginning. We have of course learned a lot over the last few years, but we tackled the whole thing far too optimistically at the start and should have dealt more with the details. This has certainly cost us a lot of time, we could be even further now. But that's all part of the process too.

Which tip could you give young start-ups? What would you have liked to have known beforehand?
Naturally we would have liked to have today's knowledge back then too. But unfortunately that's not how it works. The only tip I can give is that you should always believe in your ideas, but should also be willing to adapt them again and again. That's why it's important to talk to lots of people and receive feedback. Mistakes can happen on the way, but you should learn from them. Nobody is perfect and no one expects that.

Together we are strong. Which collaboration is particularly important to you or is really good fun?
We have many partnerships but it's hard to highlight just one. We just enjoy being involved in so many projects and sharing knowledge and projects with larger companies. In addition to our plumbing products, we have been offering our processes as a service for several months. Especially in the artistic sector, designers and architects find this incredibly exciting. We are growing rapidly there, with each project being different. It's fun, because there's no routine and we have to cater to a variety of requirements.
Bavaria is one of the centres of excellence when it comes to additive manufacturing (3D printing). In addition, there are a variety of funding programmes and supporting organisations, which are very appealing, especially for young companies.
Which other ideas do you want to promote in future?
We definitely want to expand our material portfolio. The technology is designed to theoretically print any material in powder form. In practice, we are already testing this on recycled plastic, where we have a partnership with the Fraunhofer IGCV through funding (innovation voucher) to make this possible. More materials will then be added as this broadens out.
We also want to further expand our service business. We see huge demand here. We are currently one of the very few companies who can process or refine 3D printed sand parts according to customer requirements.

A great deal is possible with 3D printing now: Which building in Bavaria has impressed you so much in terms of architecture that you might like to replicate it yourself at some time?
Naturally, there are very many in this area. Munich in particular has a great deal to offer. Specifically, we had thought about reprinting the Allianz Arena. But we would certainly have to clarify this with FC Bayern for legal reasons. Otherwise, we would like to print a larger mountain panorama from Bavaria. As we can print up to 4m long, this would be accordingly impressive.


Laurens Faure explains how additive manufacturing works at Sandhelden in an interview:
Company
Sandhelden GmbH & Co. KG
Branch
3D printing
In Bavaria since
2018
Headquarters
Gersthofen near Augsburg
Department represented in Bavaria
Head office
More about
www.sandhelden.de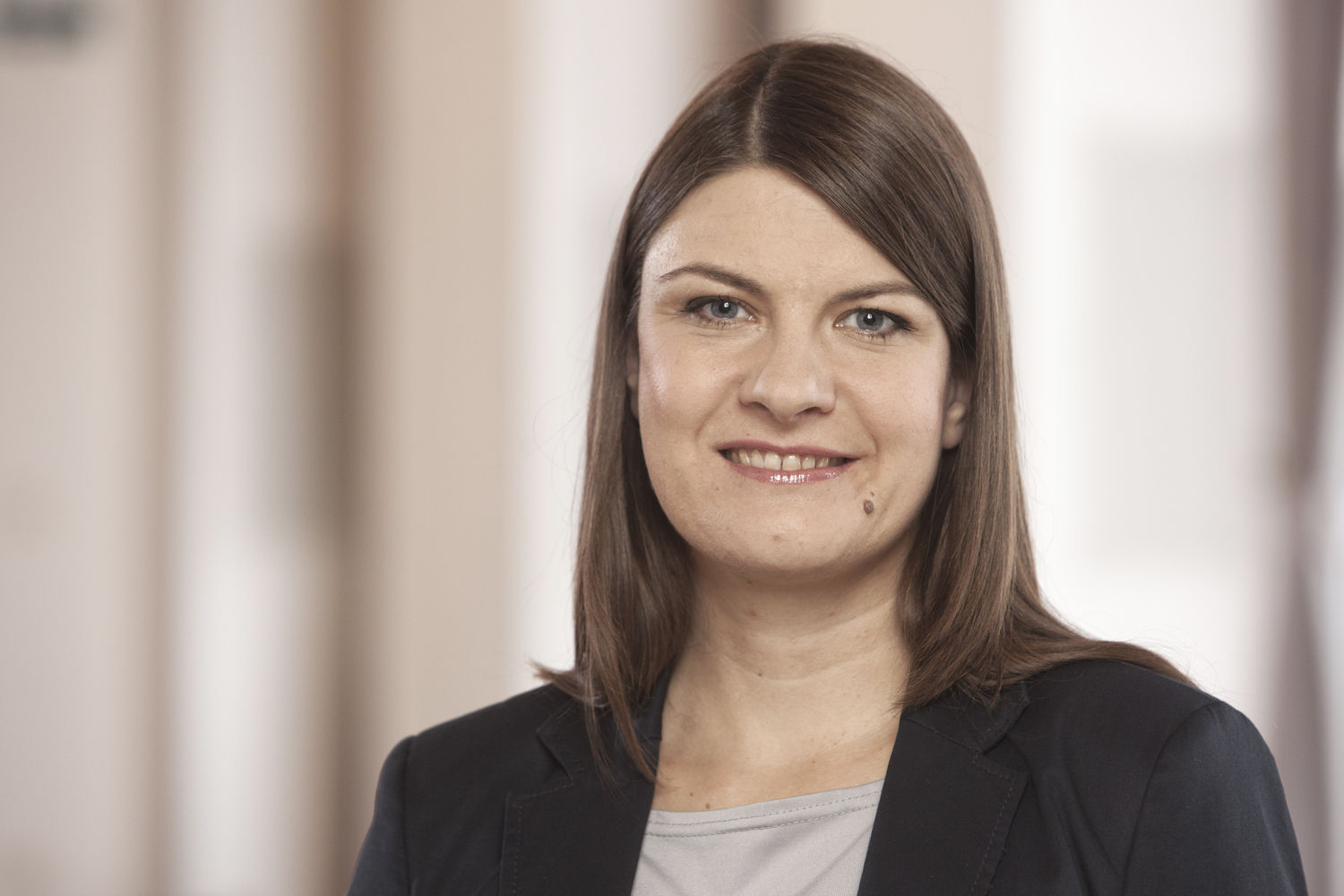 by Alexandra Schmidhuber
Marketing & Communication