Where Bavaria is opening up space for new ventures
Bavaria from the perspective of Concept Laser, a hidden champion from Upper Franconia
What does the future of industrial production look like? Where can ideas develop, inventors meet and expertise be pooled? Do high technologies just emerge in metropolitan areas or out there in the countryside too – in an environment where people and nature have always recharged their batteries for new ventures?
We spoke to the inventor who developed 3D metal printing to market maturity and is going to conquer the future market of additive manufacturing together with General Electric: Frank Herzog, CEO of Concept Laser, explains what the perfect mix of a spirit of innovation, economic power and quality of life means for him and his partners.
"The rural region of today cannot be compared to the rural region of 25 years ago as a result of the advancing digitalisation of society.Bavaria combines tradition with modern social developments with an unrivalled charm and is always up to date."
5 minutes with … Frank Herzog
We didn't just meet Frank Herzog to film the video up the "Holy Mountain" – the Staffelberg. In our blog, the CEO of Concept Laser explains the advantages of Bavaria for this company: What are the reasons for Upper Franconia being an ideal location for Concept Laser? How much is his company benefiting from artificial intelligence and Industry 4.0? And what is the new 3D Campus and Concept Academy all about?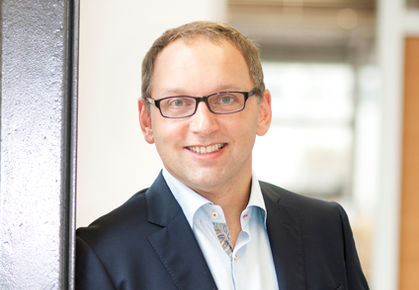 Concept Laser in Upper Franconia – from start-up to world market leader
Concept Laser as a driving force behind Industry 4.0
Concept Laser is one of the pioneers in additive manufacturing and therefore a driving force behind the Industry 4.0 strategy. New manufacturing processes offer huge advantages from design to the finished component thanks to digital process chains – for both the producing industry and many other industries. With this Concept Laser is making a valuable contribution to cross-industry innovation.
Disruptive innovation by Concept Laser
3D printing is being applied in many industries as part of digitalisation: from medical and dental technology to aerospace and the automotive industry as well as tool-making and mould making. 3D printing is also playing an ever greater role in watch and jewellery production and makes totally new components possible compared to conventional production processes.
Concept Laser is promoting young talent in Bavaria
Concept Laser is not just relying on the excellent university landscape in Bavaria to find the right talent but doing something about this itself. Young people are inspired for the work at the company at the Concept Academy: besides internships, the Concept Academy offers dual courses of study in cooperation with Coburg University of Applied Sciences.
We are looking forward to getting in touch with you.