Home

- 

Wine hiking in Bavaria: the most beautiful wine and pleasure hiking trails in the state
Wine hiking in Bavaria: the most beautiful wine and pleasure hiking trails in the state
A wine hike in Bavaria's regions can combine so many wonderful things: beautiful nature, the company of dearest friends or family, delicious culinary delights and physical activity. Along the way, you will discover the most beautiful corners of Bavaria and find out interesting facts about many regional features. Whether it's with a guide or on your own – Bavarian wine trails are filled with a variety of delightful treats for all the senses and are always worth a discovery tour. You can read here where wine hiking in Bavaria is particularly worthwhile and what other culinary delights you can expect during this experience.
Lower Franconia: hiking above the rooftops of romantic villages directly on the Main loop
The first worthwhile stop for a wine hike in Bavaria is in tranquil Lower Franconia. The numerous winegrowers from this region not only have uniquely exquisite wines to offer, but their picturesque vineyards are also dotted with numerous paths that invite you to go wine hiking.
There are some picturesque villages and towns, such as Randersacker, Eibelstadt and Sommerhausen, around the capital of Lower Franconia, Würzburg, the mere sight of which makes a wine hike a must. These old-established towns are not only captivating with their multitude of wineries, but also with their direct location on the Main. Visitors to the vineyards are accordingly always offered a breathtaking view of the river and the surrounding communities.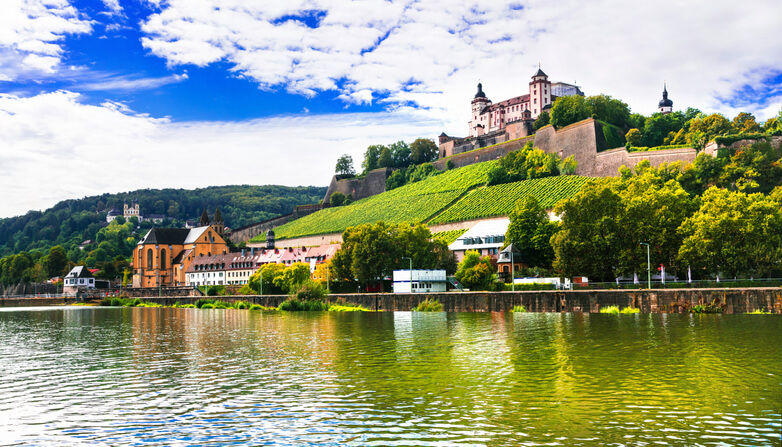 Wine hiking near Würzburg
The Sommerhausen wine walk through the Siegelswäldchen forest above the vineyards offers a particularly unique view over Ochsenfurt and Eibelstadt to Würzburg. Life-size sculptures made of shell limestone, stone, wood and clay can be found in the forest. These represent the various jobs of a winemaker and serve as ideal stops for breathers where you can top up on a glass of wine.
Lower Bavaria: a unique landscape with interesting sights

The Landshuter Höhenwanderweg runs along the ridge of the Isar valley in Lower Bavaria. With a network of 128 km of trails and 17 circular trails that branch off from the main route, hiking enthusiasts are spoilt for choice here. But whichever route you ultimately choose – breathtaking views of the Lower Bavarian hills and the river await you all around. Information boards, archaeological sites and monuments as well as natural and scenic attractions also adorn the hiking trails. The many rest stops invite you to taste the wines you have brought along and turn the hike with friends and family into a true wine experience.
Middle Franconia: enjoy a medieval castle and Franconian snacks in the middle of the vineyard

Another wine hike in Bavaria leads through the Middle Franconian wine country near Ipsheim. The "Burg Hoheneck" Ipsheim wine trail opened as early as 1996. Depending on the desired level of difficulty, you can hike a route of 4, 6 or 9 kilometres. The path forms a loop and leads below Hoheneck Castle, which towers over the entire vineyard. Although the castle is only open to visitors on certain days and during the Christmas market, it is definitely worth a snapshot from the outside as well. Other highlights on this trail include:
The restaurant in the middle of the vineyard, which serves Franconian snacks as well as coffee and cake
A chapel that you can visit by arrangement
A sundial and several benches that invite you to take a rest with a magnificent view
The European vineyard, where you can find the most important European grape varieties, which are cultivated into Premiere Cuveè wines there.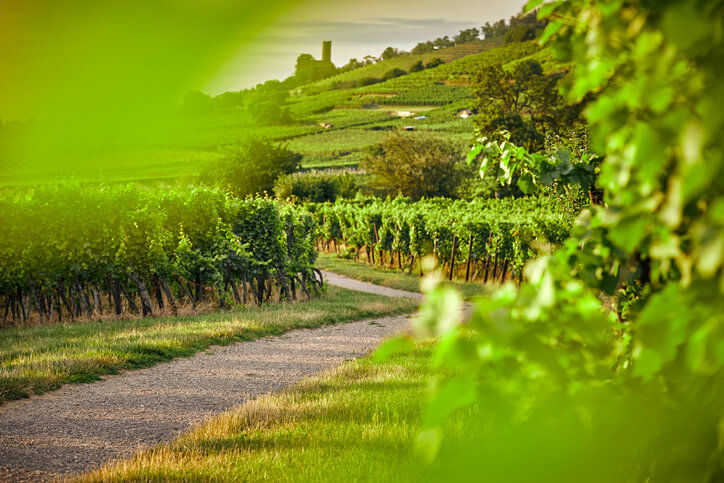 Wine hiking in Middle Franconia
Swabia: beautiful wine and pleasure hiking trail at Lake Constance

The Nonnenhorn "Gourmet Trail" in the Lindau district on Lake Constance allows visitors to experience one of the most beautiful and sensuous wine trails in Bavaria. The circular hiking trail is the epitome of pleasure hiking in Bavaria. It leads for about two kilometres through the old town's picturesque side streets, along country lanes past blossoming orchards and historical sights, to romantic places by the lake. Themed boards also provide interesting impressions of the cultivation and layout of the vineyards and orchards. Other delightful features on the route include:
The Bullrich park with a viewpoint over Lake Constance
Nonnenhorn's historic winepress
The "Malerwinkel" nature reserve
Tip: During the classic hiking months from May to October, the winegrowers at the old winepress usually devote their time to curious hikers who are interested in explanations about the winepress every Wednesday at 5 p.m.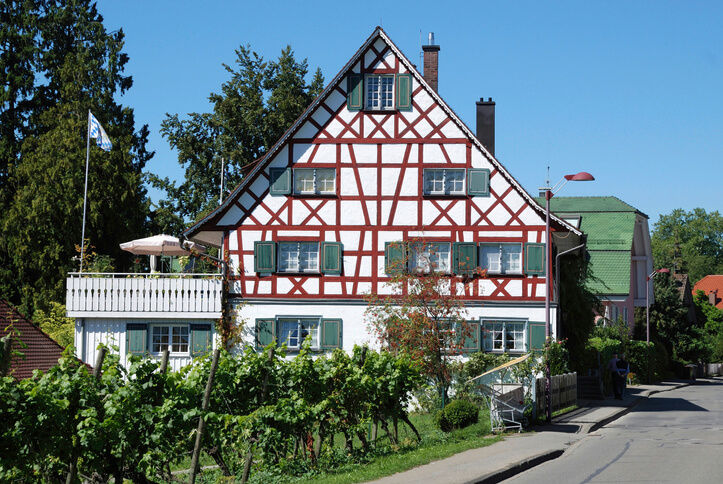 Half-timbered house in Nonnenhorn at Lake Constance
Upper Bavaria: wine tasting in the state capital with many cultural highlights

For a not-so-classic wine hike in Bavaria, it's worth taking a detour to Munich. On the one hand, there are guided tours including wine tasting through the city, but of course you can also start your own wine tasting and go on a discovery tour through the capital of Upper Bavaria with your backpack and company. A wine walk through Munich offers plenty of cultural highlights and you can design your own tour along the famous sights. Whether it's a detour to the English Garden or to the Diana Temple in the Hofgarten – with your favourite wine in hand, you can see Munich again through totally new eyes!

Upper Franconia: How about a beer for a change?

Wine hike in Bavaria or not – the district of Upper Franconia is not also called beer country without reason. Instead of passing through wineries, you can sample delicious beers made in the Franconian brewing tradition on the 13 Breweries Way. As the name suggests, there are a total of 13 breweries along the 32-kilometre-long hiking trail, serving not only delicious beer but also Franconian regional cuisine. In addition to the rest stops, hikers can discover numerous natural and cultural sights along the way and, thanks to information signs, acquire knowledge and information about the traditional Bavarian brewing craft. A shorter version with just 10 brewery stops is also signposted.
Overall, beer country Upper Franconia offers:
No less than 65 brewery tours
The highest density of private breweries in the world, especially in the Bamberg region
A variety of half and full day tours starting at a distance of 4 kilometres
If you are not a beer lover but prefer to stick to wine, you can also pack yourself a few bottles of your favourite drop and wander through the beautiful Franconian Tuscany. The art and sculpture trails, for example, offer numerous objects that invite you to philosophise about art and culture over a glass of wine and to enjoy the surrounding landscape with your loved ones.
Upper Palatinate: Varied beer and enjoyment hiking trail for inquisitive minds and culture fans

A great beer hike in Bavaria is also available in the administrative district of Upper Palatinate. Known for its Lammsbräu organic beer, the town of Neumarkt in der Oberpfalz offers a beer hike for connoisseurs. The "Neumarkt Beer Variety" hiking trail runs through the town up a hill to the Mariahilf Church. After 367 steps, a great view of the whole of Neumarkt awaits you next to the beautiful church. In addition to the numerous opportunities to stop for refreshments during the course of the hike, this trail is particularly impressive for its varied sights and landscapes. So you can expect more highlights like:
Crossing a former quarry
Meadow and forest paths with interesting rock formations
A hiker's lounger
Wolfstein Castle ruins
The "Ludwig-Danube-Main Canal" route monument
Crossing the former state horticultural show area
We wish you a lot of fun on your next hike in Bavaria!