Nürnberg May 22.
- May 24, 2023
MedtecLIVE with T4M 2023
---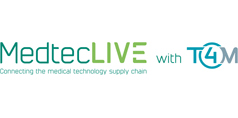 Vom 23. – 25. Mai 2023 kommen die Player der Medizintechnik-Branche auf der MedtecLIVE with T4M in Nürnberg zusammen. Hier treffen Produktentwickler und Einkäufer der Inverkehrbringer und OEMs auf die wichtigsten Zulieferer der Medizintechnik in Europa.

Auf der Fachmesse finden Aussteller und Fachbesucher aus der Medizintechnik-Industrie Raum für einen inspirierenden und persönlichen Austausch. Drei Tage lang dreht sich dann alles rund um die Wertschöpfungskette in der Herstellung von Medizintechnik sowie medizintechnische Lösungen und Produkte.
Back to events list
arrow
location Location

Nürnberg

calender Download event as iCal

signup Register here

language Languages

Englisch