Photonics
Optical technologies are among the dynamic growth industries in Germany. Growth of 18 % was achieved across all photonics segments in 2021 compared to 2020.
Optical technologies are among the dynamic growth industries in Germany. Growth of 18 % was achieved across all photonics segments in 2021 compared to 2020.
Sector in brief
Almost 140,000 people work in optical technologies – one of the twelve key technologies – in Germany today. Between 2005 and 2016, the production volume of the sector in Germany rose from EUR 17 bn to EUR 31 bn –
a total growth of 82.3 per cent. Bavaria's share of this production is over 50 per cent in the lighting technology, information technology and communications technology sectors, and around 25 per cent in medical technology and life science.
10.00
% average investment rate in Research & Development
With more than 500 companies in the field of optical technologies, Bavaria is the number one location in Germany. The sector is making waves in many key fields. These include laser technology, additive manufacturing, holography, metrology & sensor technology, laser material processing and fiber optic telecommunications. Photonics is also very significant in the field of biophotonics and medical diagnostics. Key international players such as Ficosa subsidiary Adasens Automotive, Agfa-Gevaert HealthCare, Sill Optik, Osram Opto Semiconductors, Menlo Systems and Toptica Photonics all have sites here. The regional focus areas for optical technologies are Munich-Augsburg, Erlangen-Nuremberg and Regensburg.
Numbers of the photonics industry
500.00
companies & research institutes in Bavaria
37.00
bn euros sales in 2018
769.00
bn USD global market expectations for 2022
With nine universities relevant to photonics, 17 universities of applied sciences and eight research institutions, Bavaria holds the world's leading position in fundamental and application-orientated research in the field of optical technologies. Degree courses in optical technologies at universities in Bavaria include "Mechanical Engineering – Laser Technology" at the University of Applied Sciences Amberg-Weiden, "Mechatronics – Optical Engineering" at Deggendorf University of Applied Sciences, "Electronic and Mechatronic Systems, consolidation in Photonics" at Georg Simon Ohm University of Applied Sciences in Nuremberg and "Photonics" at Munich University of Applied Sciences(more study programs in the Studienkompass Optische Technologien).
At the latter, the Faculty of Applied Sciences and Mechatronics conducts research on photonics and laser technology. The focus is on laser processing with ultrashort pulse lasers in the field of thin film systems as well as laser ablation using time-resolved ultrashort pulse microscopy. The East Bavarian Technical University of Regensburg has established itself as an important partner of regional and national industry. One of the main areas of research is laser material processing. The Institute for Machine Tools and Industrial Management (iwb) at the Technical University of Munich is one of the largest production technology institutes in Germany. The main areas of research include laser material processing and additive manufacturing.

The universities are supported by important institutions conducting research in photonics, such as the German Aerospace Center at its Oberpfaffenhofen site, the Fraunhofer Institute for Integrated Circuits (Erlangen) and Fraunhofer ISC (Würzburg). In close cooperation with the universities, Bavaria's photonics companies also conduct research into cutting-edge technologies such as semiconductor and high-performance lasers. The Bavarian competence network "bayern photonics" and the Strategic Partnership for Sensor Technologies support further training for specialist staff and the recruitment of highly-qualified staff by companies, as well as the exchange of expertise and transfer of technology within the sector.
The bayern photonics cluster currently has around 90 members and acts as a single point of contact and specialist coordination office for research, manufacturers and users of optical technologies in Bavaria.
It offers companies in the industry services such as training and further education, innovation management, industry marketing and start-up consulting. For members, the network facilitates access to new markets and partners; suppliers are supported in realizing research projects and finding research partners. In the annually updated brochure Optical Technologies in Bavaria you can learn more about the participating companies and research institutions.
The Bavarian clusters for nanotechnology and sensor technology are also linked to the optical technologies industry. The link between science and industry in the field of optical technologies is the Bavarian Laser Centre (blz) based in Erlangen. The research company makes scientific progress available to industry and qualifies the laser as a beam tool for modern manufacturing processes. In 2018, the Bavarian Laser Centre and the Chair for Photonic Technologies (LPT) of the University of Erlangen-Nuremberg founded jointly the Application Center Additive Manufacturing. Interested companies can benefit from the latest scientific research in this field.
The regional competence networks for optical technologies build together a nationwide internationally active competence network OptecNet Deutschland e.V. The European Optical Society offers networking on a European leve
Start-ups from the photonics industry can contact bayern photonics. The cluster network supports start-ups in looking for suitable cooperation partners, in making contact, in funding consultation and in participation in trade fairs at favourable conditions.

Trade fairs also offer helpful access to networks. One example is the Laser World of Photonics in Munich, the world's leading trade fair for photonics components, systems and applications.
News
There are currently no events
Location map
Companies in the Bavarian photonics sector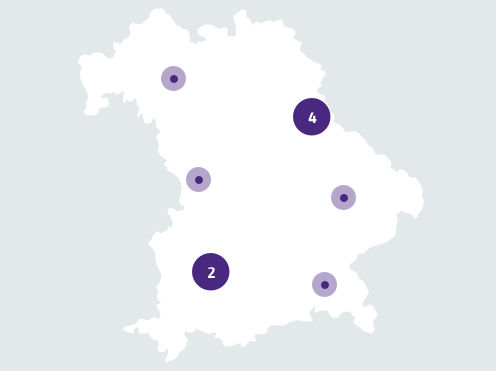 We are looking forward to getting in touch with you.