Munich May 20, 2019
VentureCon Bavaria
---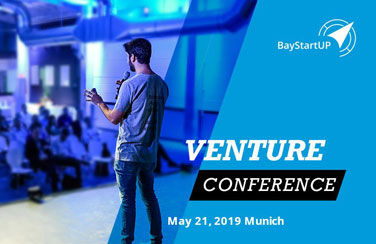 At VentureCon tech and digital start-ups from Germany and Europe have the opportunity to present their business model to an audience of more than 80 selected investors and corporates.
In addition to German and international venture capitalists, the pitch event also attracts strategic investors, public investors and numerous European business angels.

The tech and digital start-ups from all sectors have a growth-oriented business model and a capital requirement of 500,000 euros and more.

In addition to excellent presentation and financing opportunities for start-ups, the event also enables networking with decision-makers: global players, hidden champions and technology experts from companies of many different industries.

Furthermore, 70 start-ups will present their solutions at their exhibitor booth - from smart drinking cups to sensor technologies for the healthcare industry.

Your contact:
Johanna Hebestreit
Phone: +49 175 15 90 236 | Mail
Back to events list
arrow
calender Download event as iCal

language Languages