Munich Jun 04
- Jun 06, 2018
Frankenstein.AI
---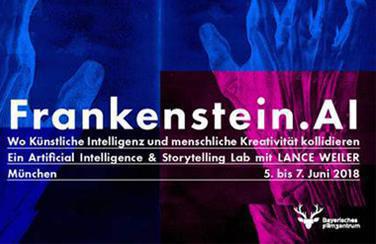 Frankenstein.AI is a special opportunity to meet one of the world's most advanced forethinkers in digital storytelling Lance Weiler.
It is about Deep Learning, Big Data and the Internet of Things. It is considered as a tool and a curse, as an opportunity and a threat the same time. It is part of our daily life, already.Now it is high time for artists, creatives, storytellers and developers to tackle the applications of AI, as it will likely be both the most helpful and most dangerous technological invention of our time.
Audience:
Creators, artists, coders, software developers, journalists, designers, book lovers, activists, academics, business developers and out of the box thinkers.
No software skills are necessary for participation in the lab, but welcome.
Details, including application and fees, are available on the website of the operator.
Back to events list
arrow
calender Download event as iCal

language Languages