Nuremberg Oct 21, 2020
Bayerischer Energiepreis 2020
---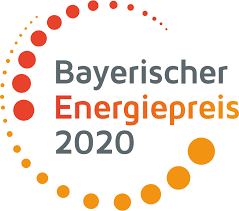 The competition for the Bavarian Energy Award has been held twice a year since 1999 and is awarded by the Bavarian Ministry of Economic Affairs, Regional Development and Energy. The special feature of this year's energie-startup.bayern is that, since 2016 and 2018, innovative start-ups with forward-looking ideas in the energy sector have also been honored this year.
Awards are given for outstanding achievements in the fields of new energy technologies, renewable energies and energy efficiency. Among them is 1 main prize winner and 8 further prize winners, among others in the categories Buildings as Energy System / Building Concepts, Energy Generation - Electricity, Heat, or Municipal Energy Concepts.
The prize money is endowed with 31,000 Euro, of which the main prize winner receives 15,000 Euro.
Participation was open to universities or other research institutions, companies, cities, districts and communities, individuals and other team constellations.
Participation in the award ceremony is free of charge. You can register here.
Back to events list
arrow
calender Download event as iCal

language Languages