Home

- 

Settlement of HPTEX GmbH in Northern Bavaria – high-tech fabrics for international space travel from Upper Franconia
Settlement of HPTEX GmbH in Northern Bavaria – high-tech fabrics for international space travel from Upper Franconia
With the foundation of HPTEX GmbH in the district of Hof, international expertise in the aerospace industry is to be pooled for the production of a metallic high-tech fabric, the "mesh". Development and production technology will be concentrated at the Münchberg site in future. HPTEX works closely in the area of research and development with the region's leading institutions, such as the Fraunhofer Münchberg or the University of Hof.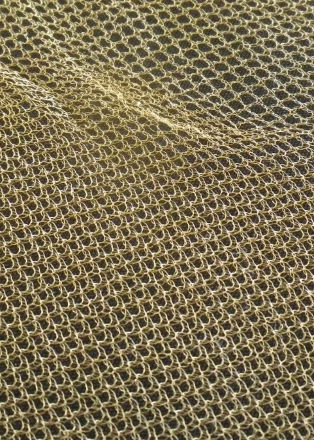 Earth-observing satellites can be used to analyse climate change or weather forecasts and provide support for telecommunications and navigation technology. The satellite antennas used have a parabolic reflector that focuses the electromagnetic radiation.

The reflector's diameter depends on the respective mission requirements, for example, the required image resolution. For large reflectors with diameters of 5 to 20 metres, the weight and packing size of the antennas are relevant for economical transport into space. Textile materials with a reflective surface enable the production of light, foldable structures in almost any shape and size.
New location to pool European expertise

The development of foldable space antennas has only just begun in Europe. The challenges for these kinds of antennas include the production of the high-precision, highly reflective surface made of ultra-fine knitted metal mesh, which must allow for high elastic elongation at the same time.

At the moment, such antennas are only manufactured in the USA. Greater European independence in space missions is being sought by the European Space Agency ESA and the European Commission through the development of this technology. In the EU LEA (Large European Antenna) project , more than 15 European companies and research institutions are researching the development of antenna components.

Close cooperation with other Bavarian players

Involvement from Bavaria includes HPS GmbH a space technology company from Munich, which is acting as the main contractor. And from Münchberg (Hof district), Iprotex GmbH & Co. KG, , which specialises in technical textiles, and the Fraunhofer Application Center Textile Fiber Ceramics TFK.

The focus is on developing the reflector's textile surface. Key components of satellite technology are the core applications for earth observation and communications. For both, the mesh functions as a resonance body for both the reception and transmission of radar and communication data between sky and earth, for the generation of images for climate protection and for networking the earth's population.
HPTEX GmbH's first mission objectives are the pre-development and qualification of a mesh for "CIMR", a satellite in the EU Commission's latest flagship fleet Copernicus for the observation and measurement of climatically relevant developments in the Arctic, and a series of small satellite antennas from the commercial NewSpace industry.
by Maureen Stender
Investor Services Energy Technology | Human resources issues