Home

- 

Bavaria, the region of skiers and hikers
Bavarian way of life
Mar 19, 2019
Bavaria, the region of skiers and hikers
Bavaria is a real skiing region – hardly surprising with how close it is to the Alps. And north Bavaria also offers plenty of opportunities for mountain sports' fans. Reason enough to take a closer look at an exceptional Bavarian speciality: ski touring.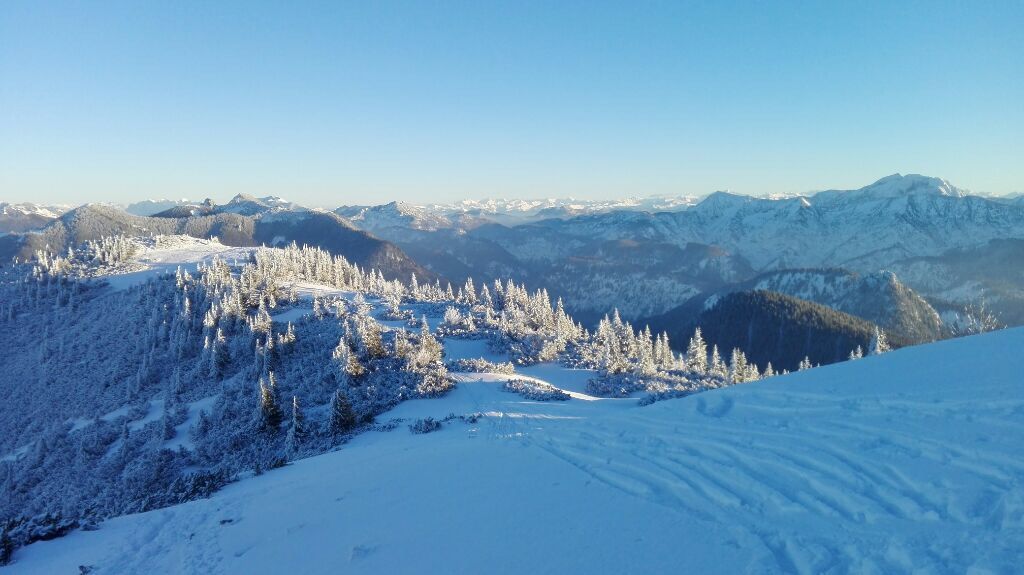 There are more than 650 ski tours in Bavaria. And they have wonderfully sounding names: From Riezlern auf das Toreck or Giebelhaus im Hintersteiner Tal auf den Schochen. In addition to their melodious sound, the names also reveal an important detail in terms of content. Because unlike with universally popular skiing, the little but important word "auf", which means up, plays a crucial role with ski tours. While classic skiers are lost without a lift, the fun just gets started with ski touring when there's no lift at all. The idea is primarily to actually climb a mountain with skis and then enjoy an unspoilt, natural downhill run to the valley on the way back. That's why we also refer to it as ski mountaineering.

It requires good local knowledge, even better endurance and strong legs above all. The equipment is also different to with classical downhill skiing: the skis are shorter and lighter, the bindings are different, so you're only attached to the front of the skis when climbing uphill but not the back. The ski poles are also essential as they provide support and are designed to lift the body weight. And of course it's very important that the skis are covered with skins underneath. They make sure they only slide in one direction (forwards) and stop in the other direction (backwards). You can therefore hike uphill with skis on your feet more or less without any problems.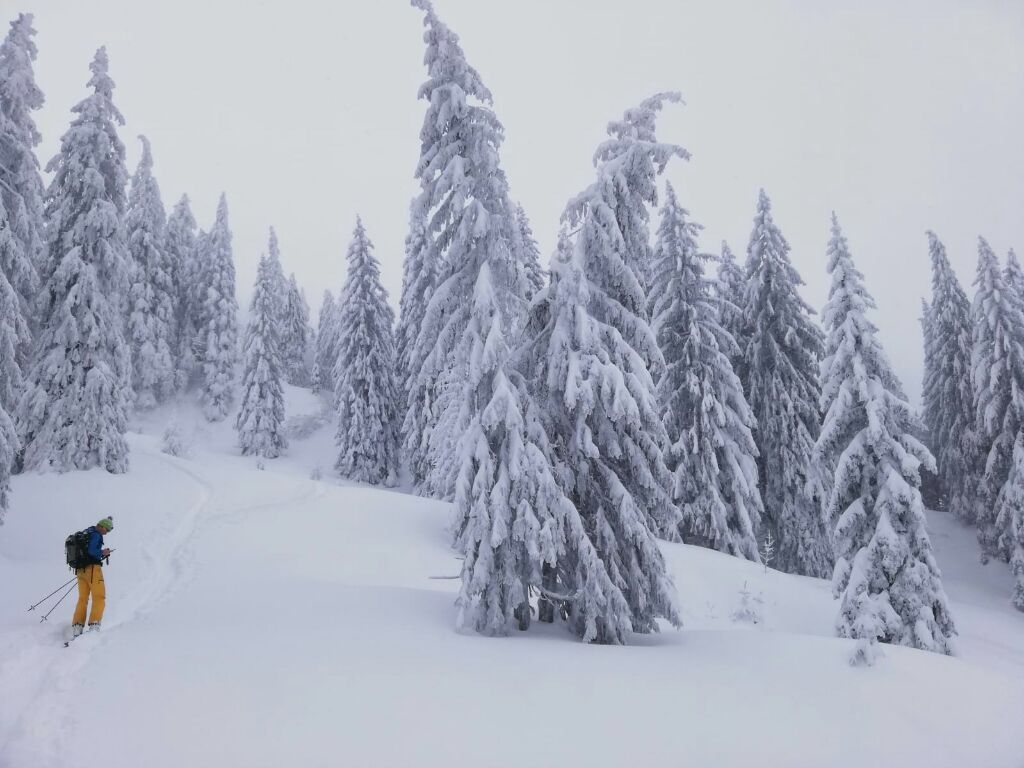 Ski tour on the Schönberg in the Tölzer Land region south of Munich
The advantage is obvious: no queuing at the lift, no crowded runs and comparatively low costs, once you've purchased the admittedly expensive equipment, although potential ski tourers can hire the equipment first. In return, you get an exclusive downhill run to the valley and a day-long physically demanding task: doctors even think that this outdoor experience is just as highly recommended to find some balance for stressful everyday life as it is for demanding fitness, endurance and anaerobic strength training. And these are still not all the arguments that ski touring is credited with: added to this, it is generally considered to be particularly environmentally friendly. After all, it doesn't require any concrete pillars to be built, swathes of forest to be cleared or artificial snow.
Which is also why ski touring has been becoming a megatrend for years, particularly in Bavaria, which is perfect for it. For example, more touring skis were sold than alpine skis in the greater area of Munich as early as 2013. And there's no end in sight. Which is why new touring mountains as well as eco-friendly routes and versions are appearing in the guides that the Bavarian environmental authorities publish in co-operation with the German Alpine Association year after year. Meanwhile, green signposts have been mounted in many places, particularly in popular ski tour regions like Allgäu and the Bavarian Forest. The most popular routes by far are located there due to the wonderful scenery – the locals and tourists agree on this. But even the mountains around Tegernsee have been opened to ski tourers in the meantime, due to their proximity to the state capital alone.
Bavaria's alpine landscape offers the best conditions for relaxing ski tours in nature
The fact that ski mountaineering is so popular in Bavaria today may be partly due to the fact that it has its roots in this part of Central Europe. The Heimgarten, a 1,791 metre high mountain in the Walchen and Kochelsee mountains, was the first Alpine peak to be climbed on skis. By a Bavarian, of course: The pioneer of ski touring was called Karl Otto. He came from the Munich area. It is said, he set off for the summit cross in 1890 on skis made out of limewood, which he had had specially made by a master cartwright in the vicinity, and branches that he had tied under the running surfaces instead of today's skins. The fascination took hold, especially in Bavaria, where you find the best conditions for the sport. You don't necessarily always have to drive towards the Alps, there are worthwhile ski tours in other parts of Bavaria too. One real insider tip for nature lovers, for example, is the ski tour on the Königsheide im Fichtelgebirge in Upper Franconia. Those looking for something exceptional will also find it in the middle of Munich: the centrally located Olympia mountain, also affectionately called "Olyberg" by the locals from Munich, offers the best conditions for an urban ski tour after work in good snow conditions. A detailed overview of other ski tours in Bavaria can be found on this interactive map.