Home

- 

Bavaria delivers mobility: Which start-ups and companies are revolutionising transport
Bavaria delivers mobility: Which start-ups and companies are revolutionising transport
More than 13 million people live in Bavaria alone. Technological progress is absolutely essential for public transport to run smoothly with so many participants. It is therefore not surprising that there are start-ups and companies in Bavaria that are not only simplifying mobility, but actually revolutionising it. We present some of them and give an outlook on the companies' future visions.
Lilium was founded in 2015 in Weßling near Munich. The four founders Daniel Wiegand, Sebastian Born, Patrick Nathen and Matthias Meiner were all engineers or PhD students at the Technical University of Munich (TUM) at the time. They have their own unique idea of mobility in the Bavaria of the future: no more exhaust fumes, no more tyre wear, no more traffic jams. To ensure this vision does not remain just a feverish dream, the four founders are working on making the Lilium Jet ready for series production with over 300 employees in the meantime. The jet is a so-called eVTOL, an electric vertical take-off and landing aircraft. The technical data is impressive:
Number of passengers: Up to 5 people
Maximum speed: Up to 300 km/h
Range: Up to 300 kilometres
Propulsion: 36 electric motors with 320 kW total power

What sounds like a wild fantasy to some, has already been worth millions to some renowned financiers: the start-up, which is only five years old, has already seen investments totalling over 300 million US dollars. The investors include Atomico, Tencent and the investor group headed by entrepreneur Frank Thelen, Freigeist Capital. Several unmanned test flights have already taken place, both of a two-seater and a four-seater prototype. The two-seater is currently undergoing the EASA (European Aviation Safety Agency) certification process. The high number of motors is for safety reasons: even if some of the ducted fans fail, a safe landing is guaranteed. If Lilium GmbH achieves its goal, we will be able to simply order a Lilium Jet instead of an ordinary taxi in just a few years time and fly away from traffic jams and other inconveniences. The pricing is to be based on taxi journeys and flights should therefore be affordable for most people.
The Lilium Jet (Source: Lilium)
Anyone who thinks Lilium has its head in the clouds, will find something more down to earth in ParkHere GmbH. This company was also opened in 2015 as a spin-off of TUM. It develops energy-autonomous sensors for parking space management. What sounds complicated is easy to explain: ParkHere sensors are installed in car parks and transmit whether the parking space is free or occupied in real time by mobile phone. They do not require a power supply or batteries. The benefits are clear: No more annoying searching for a parking space, but being shown where the next free parking space instantly is on the mobile phone or even in the car. The focus of current test runs is on charging parking spaces for electric cars. As a result, the company is to make electromobility in Bavaria more attractive and more suitable for everyday use. The elimination of traffic searching for a parking space also helps protect the environment. ParkHere is already working successfully with several companies, such as BMW and Telefónica Munich.
Although Ionity was only founded in October 2017, it is not necessarily a classic start-up. The Munich-based company is a joint venture by BMW, Daimler, Ford, Audi, VW, Porsche and Hyundai has also been part of the project since 2019. Ionity's goal is to establish a network of public High Power Charging Stations (HCP) along the main European roads by the end of 2020. This expansion of the area covered is intended to make e-mobility suitable for long-distance travel from Bavaria. The declared goal is 400 stations to be built in 18 countries. It is planned that the HCPs will be no more than 120 kilometres apart. The European Union is also supporting this project with subsidies: So far, it has invested about 39 million euros. The course for Europe's electromobility is therefore being set in the heart of Bavaria.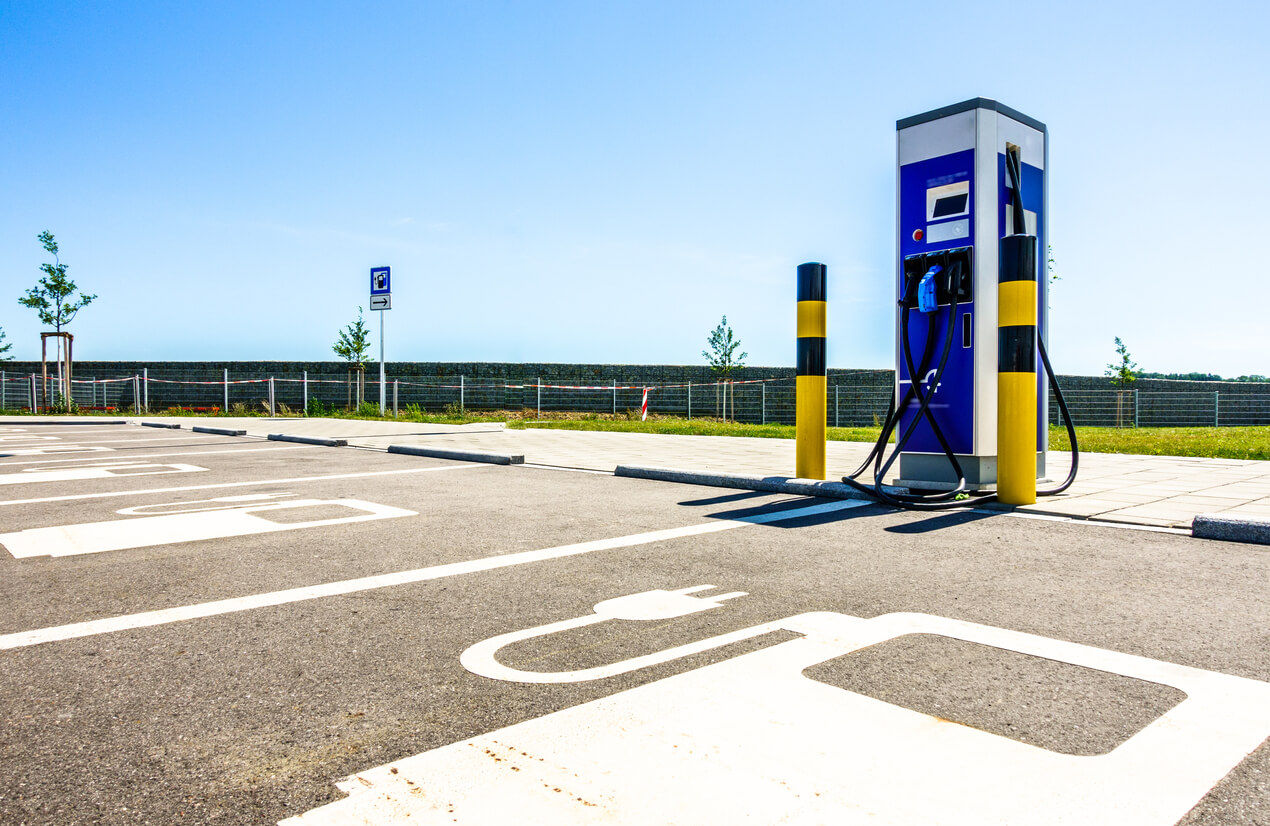 Charging column for electric vehicles
What use are parking spaces and charging points if nobody can use them? Sono Motors was originally founded near Frankfurt, but has since moved its head office to Munich. The start-up founded in January 2016 is working on the Sion. This is an electric car that charges itself using solar cells. So far, more than 10,000 advance orders have been received for the car, whose new price of just 16,000 euros makes it relatively affordable. But the Sion is not just another ordinary electric car. You could say it combines all the advantages that an electric and digital car can have:
Continuous recharging through solar cells
Power for everyone: The Sion can be used by passers-by as a charging station.
Mobility for everyone: The Sion can be rented at short notice through an app.
Cheap repairs: Spare parts are produced using a 3D printer, the data is publicly accessible, as are installation instructions for non-specialists.
The Sion from Sono Motors (Source: Sono Motors)
This results in several advantages at the same time, which not only enable future mobility in Bavaria, but could also shape it. On the one hand the usability: Not only can the Sion charge its bi-directional battery from both quick-charging and household sockets, it can also provide it as a power source for passers-by if its owner so wishes. But this does not stop with simple mobile phone recharging: the Sion can even give juice to other electric vehicles.
In addition to this function, Sono Motors calls it power sharing, Sion owners can also offer other people a ride (ridesharing) or rent out the whole car (carsharing) through their own app.
The Munich-based company achieves the low price by using other automobile manufacturers' expired patents, which are now freely available. However, the battery will probably cost a monthly rent, unless there are enough interested parties who would buy a battery for about 9,500 euros extra.
In early 2020, Sono Motors made headlines when 53 million euros were collected within 50 days for further development, production and testing in one of Europe's largest crowdfunding campaigns. The fresh capital will be used to expand the team and further develop the Sion - according to Sono Motors, the first vehicles for type approval and process assurance in production should roll off the assembly line in 2021. Delivery to customers is planned from 2022 onwards.

Mobility in the technology location Bavaria

These young and successful companies impressively demonstrate how the automotive competence field is being supplemented throughout Bavaria by the broader field of mobility. The efforts by politics, business and research over many years are now bearing fruit, and Bavaria's global importance in the field of mobility was emphasised again at the beginning of the year when the relocation of the International Motor Show IAA from Frankfurt to Munich was announced. The Bavarian capital prevailed against competitors such as Berlin and Hamburg. According to the organisers, a cross-sectoral innovation platform for future mobility is to be established with the involvement of the metropolitan region. But Bavaria can also impress as a business location as a whole, as an international study on location factors from the year 2019 shows.