Home

- 

5 minutes with... Hajime Takatsuka, director general at JETRO Munich
5 minutes with ...
Dec 10, 2020
5 minutes with... Hajime Takatsuka, director general at JETRO Munich
Bavaria's share of Germany's GDP is around 20%. That makes Bavaria the strongest state in Germany economically. Around 450 Japanese companies are based in the Free State. The Free State has excellent business relations with Japan, not least because of its own foreign representation in Tokyo. It is to be expected that other Japanese companies will settle in Bavaria in the future. The Japanese External Trade and Research Organisation JETRO has an office in Munich and supports in the expansion of Japanese companies in Germany, and in the establishment of German businesses in Japan. Following the closure of the office in Munich approx. 10 years ago, the organisation opened another facility in the Bavarian capital in July 2020. Learn more about the reasons behind the reopening and some upcoming projects in this interview with Mr Hajime Takatsuka, director general of JETRO Munich.
Mr Takatsuka, the reopening of JETRO's Munich office has created great expectations. Can you explain what your organisation does in general, and why the office in Munich has been reopened?

JETRO was founded in 1958 to promote trade and investment between Japan and foreign countries. We focus on activities that meet the needs of the time. We're currently concentrating on investing directly in foreign companies in Japan and supporting the expansion of Japanese companies abroad, including start-ups.
To do this, we're working with JETRO's Munich office to organise events where companies from Japan and Bavaria can conduct business negotiations. We're also taking part in trade fairs within Bavaria.
Another important task is to promote business relations between Japan and Bavaria as a whole, and to support the Japanese community in Bavaria. We've recently been following trends here in the areas of next-generation automobiles and water and fuel cells.

Until the reopening of the Munich office, Japanese companies in southern Germany were supported from Düsseldorf. Why did you go with Munich as the location for another office in Germany?

As you've already mentioned, JETRO had an office in Munich until 2009. However, the demand from emerging countries in Asia grew in the 2000s, while the number of offices abroad could not be increased for budgeting reasons. Unfortunately, that meant we had to close our office in Munich, and the companies in southern Germany were being supported from Düsseldorf from that point.
There are two reasons for reopening the office in Munich: Firstly, the number of Japanese companies located in Bavaria is increasing. An important element of JETRO's work is supporting the expansion of Japanese companies abroad. As the number of Japanese companies in Bavaria is rapidly increasing, JETRO wanted to be able to offer its services on their doorsteps. That's ultimately why the office was opened.
The second reason is Bavaria's economic strength, and the concentration of industry and companies there. Well-known companies, such as those in the automotive and mechanical engineering industries, have their headquarters there, and the number of start-ups involved in new fields of business is increasing in the surrounding area. We decided on Munich because the collaboration between these companies and Japanese companies has increased, as have the business opportunities.

Mr Takatsuka, you used to work in the office in Düsseldorf. Have you noticed any differences between Bavaria/Munich and North Rhine-Westphalia/Düsseldorf?

I was based in Düsseldorf during my first stay between 2009 and 2012. I started out in Düsseldorf this time, too, and prepared the opening of the office in Munich from there. Munich and Düsseldorf have passing similarities in that they are both capital cities of economically-powerful states which have strong business relations with Japan and where it is simple for Japanese companies to get a foothold in business.
The cities have different atmospheres, which is due to the different numbers of residents. While Munich has metropolitan flair, Düsseldorf comes across as smaller and cosier by comparison.

Are there any projects or activities following the reopening? What long-term plans do you have?

In March 2020, shortly before the coronavirus started to spread, we organised an event in Munich where Japanese companies and Bavarian start-ups could talk business. Invest in Bavaria, the business promotion agency, helped us with this event.
We're also going to be at "BIOFACH" – the world's leading trade fair for organic foodstuffs – with a Japan pavilion in Nuremberg in February 2021. Based on the needs of companies in Japan and Bavaria, we're trying, among other things, to put on events that provide concrete results, and to provide information that opens up business opportunities. I think it would be nice if we could consolidate our collaboration with Invest in Bavaria and the Bavarian representation in Japan.
COVID-19 has become a global pandemic. While preparing to reopen the office, you were confronted by the emerging pandemic. How did you survive this period?

Between March and June, as novel coronavirus infections spread, the most important thing for us was the health of our employees, as it was for other Japanese companies. As a result, everyone was working from home. Then, as restrictions were eased by the federal and local governments, we gradually brought people back from working at home to working in the office.
Due to the impact of the novel coronavirus, it became a lot more difficult to hold seminars, receive delegations and to take part in trade fairs, etc. But we have been looking for ways to replace these activities with online activities. For example, we collaborated with the Japanese consul general in Munich and organised our first online seminar for Japanese companies in southern Germany in August 2020. This online seminar will keep taking place.

JETRO carried out a survey of the impact of COVID-19 on the Japanese companies in Germany and published the results online. Can you explain the results to us briefly? You are responsible for Bavaria. Did you find something specific to Bavaria?

The was conducted in May 2020. Overall, 238 Japanese companies in Germany took part, 52 of which are located in Bavaria. The survey revealed that the novel coronavirus has had a significant impact on Japanese companies in Germany. 80% of the companies taking part indicated that their turnover will decrease in the current business year. On the other hand, 40% of the companies answered the question about the direction of future business development in Germany by saying that they would like things to stay as they are. 50% indicated that they are considering expanding their business. I think this is proof that the Japanese companies in Germany and in Bavaria recognise the medium and long-term business opportunities in Germany, even in this difficult situation with the coronavirus. This is good news in difficult times.

Finally, we'd like to ask you what you've liked most about Bavaria so far. Do you have a favourite place or a favourite spot in Bavaria you can recommend to us?

I've lived in Munich since March 2020. The coronavirus started to spread right after my move, so I've not been able to see very much of Bavaria or Munich. Unfortunately, even was cancelled in 2020. I've heard that there are lots of attractive cities and lots of nature in Bavaria. I'd like to be able to find places I like as soon as possible.

The overwhelming economic and industrial strength is attractive. Along with the big companies, medium-sized companies – starting with Hidden Champions – are also located here, and there are lots of business opportunities for Japanese companies.
Company
JETRO
Branch
Außenhandelszentrale der japanischen Regierung
In Bavaria since
2020
Headquarters
Tokyo, Japan
Department represented in Bavaria
Branch office
More about
www.jetro.go.jp/germany/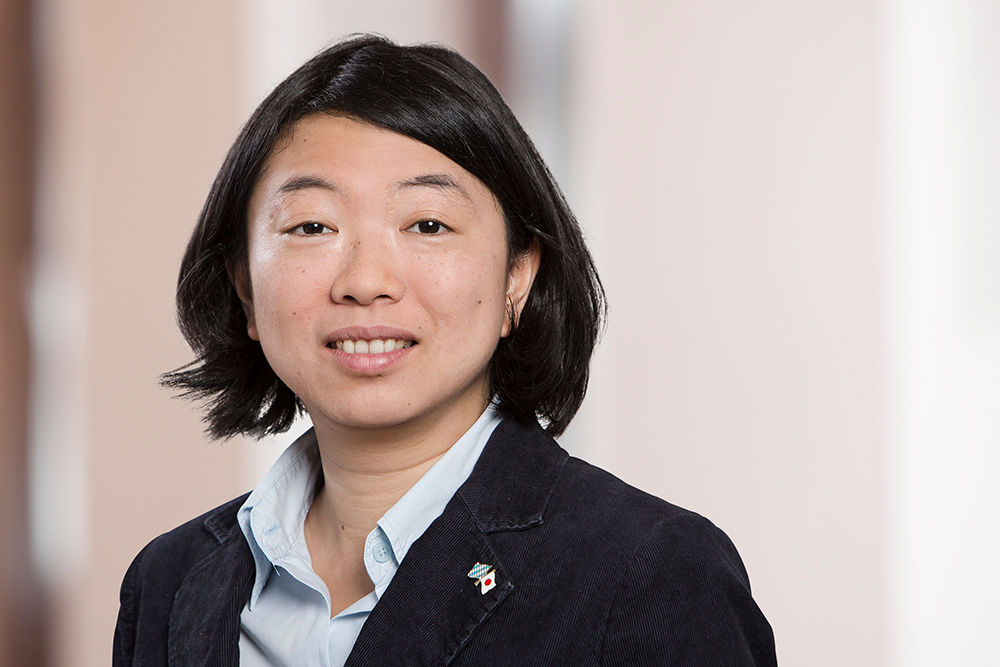 by Kaori Yamaguchi-Humpert
Investorenbetreuung Life Sciences