Home

- 

5 minutes with … Ms Helen Vogt, Managing Director of Creative Technology Europe GmbH
5 minutes with … Ms Helen Vogt, Managing Director of Creative Technology Europe GmbH
Microchips have become an integral part of our everyday lives – we find them in computers, smartphones and even kitchen appliances. In 1985, the Japanese Creative Technology Corporation was founded, which manufactures electrostatic chucks. These products are used to hold silicon wafers in place by electrostatic attraction during the various semiconductor manufacturing processes. Creative Technology Corporation also applies this technology to other materials and develops creative ideas for industries such as automotive or textiles – a classic example of cross-industry innovation. Despite the Corona pandemic with its strict entry regulations, Creative Technology Corporation was able to open its first branch in Europe in Munich with the support of Invest in Bavaria and the State of Bavaria's representative office in Tokyo. We talked to the Managing Director of Creative Technology Europe GmbH, Ms Helen Vogt.
Ms Vogt, opening the first branch in Europe in the middle of the coronavirus pandemic was bound to be a huge challenge for Creative Technology – especially in view of the numerous restrictions in both Germany and Japan. Can you please explain how you managed all this?

The foundation process started in autumn 2020, when the infection figures in Germany were already high, but most activities were still relatively problem-free with some restrictions. I myself was and am on site in Europe the whole time and was therefore able to carry out all the necessary steps from here, so we agreed with head office to keep in contact by video conferences and telephone calls, so travel between Japan and Germany was not necessary.
I think that despite the circumstances at the time, we had picked just the right time in autumn 2020, when, for example, face-to-face meetings were still possible, visits could be made to offices and it was even possible to meet for dinner in restaurants. If I remember correctly, however, all these measures were tightened shortly afterwards, so we "slipped in" with the necessary steps to establish our new location just in time.

Why did you open your European location in Munich? Why did you opt for Bavaria of all places?

As the Handelsblatt also headlined in April this year, Munich is currently developing into the "Silicon Valley on the Isar". The proximity to numerous research institutes as well as companies from the automotive industry was a deciding factor for us when looking for a location. And, of course, the good links to the airport and associated possibility of direct flights to Japan.

What were the greatest challenges in setting up the GmbH?

I did not find the foundation itself to be problematic, as communication ran smoothly at all levels. Contact with the head office in Japan and the decision-makers there was always very close and fluid, so we could decide on and implement details immediately.
The "basic framework" for the GmbH, for example the search for a lawyer or a tax advisor, was largely done through existing contacts, which certainly saved us a lot of time and effort. So it was relatively quickly clear: These are our contacts and partners who will support us in establishing our location.

What's your next goal? What potential do you see in Bavaria and Germany?

I think that Germany will become even more important as a location for the semiconductor industry than it already is. Many companies based in Germany are growing, especially now, and I am curious to see how this will develop in Bavaria. Of course, we would like to expand accordingly ourselves. The first step in this direction has been taken with the establishment of our location in Munich.

What advice would you like to give to Japanese companies that want to set up a base in Bavaria in the near future?

In these times of restrictions, I think it is particularly important to have contacts on the ground who can react flexibly. I imagine it would be difficult to start from Japan without a contact point in Bavaria. If there is no one locally in Bavaria who can take the first steps at the beginning of the foundation, I definitely recommend talking to Invest in Bavaria in Tokyo first and exchanging information with the location in Munich. This also helped us a great deal in designing a "roadmap" for setting up the GmbH.
Restrictions are being lifted more and more along with the higher vaccination rate, but the situation is still changing very quickly from country to country and in Germany in particular, different measures often apply for each federal state, which have to be clarified first. For long-term planning over several months, I think it is more practical and also safer to avoid air travel to and from Japan for the time being – it is simply not yet possible to say how the current situation will develop and influence planning accordingly.
The parent companies in Japan certainly have a great desire to be able to visit the branches in Bavaria soon, but until this is possible again without much effort, close contact through regular video conferences and telephone calls between Bavaria and Japan can bridge this hurdle.

Invest in Bavaria supported you in the settlement process, what experience did you have with this?

Ms Yamaguchi-Humpert from Invest in Bavaria was a great help right from the start and always supported me with helpful information and valuable suggestions at all times. It was really reassuring to have a local contact person at Invest in Bavaria with whom I could discuss all my issues. I was helped in every case regardless of the subject area. I am particularly grateful for the two-day tour of offices organised by Ms Yamaguchi-Humpert. Since I haven't been to Munich much myself and therefore don't know the city very well, I would find it extremely difficult to find suitable office space on my own. Invest in Bavaria also helped me make my first local contacts and integrate myself into the Japanese network in Munich. This was also a valuable support, especially now when contact restrictions are still the order of the day and new acquaintances are difficult to make.

Finally, we'd like to ask you what you've liked most about Bavaria so far. Do you have a favourite place in Bavaria you can recommend to us? Or are there places you particularly like to visit?

Due to the pandemic, I unfortunately haven't had the chance to get to know much of the city yet. But I am looking forward to exploring the city's history through its many historic buildings, for example. Among other things, I am particularly curious about the Palace of Justice. I like exploring a city by looking for special features or places that only catch your eye at second glance, in addition to the typical tourist attractions. Spontaneously, Munich's underground stations spring to mind here. Their individual design gives you the opportunity to briefly break away from everyday life and observe the hustle and bustle out and about from a different perspective.
Company
Creative Technology Europe GmbH
Branch
Semiconductor
In Bavaria since
December 2020
Headquarters
Kawasaki, Japan
Department represented in Bavaria
Subsidiary
More about
www.creative-technology.co.jp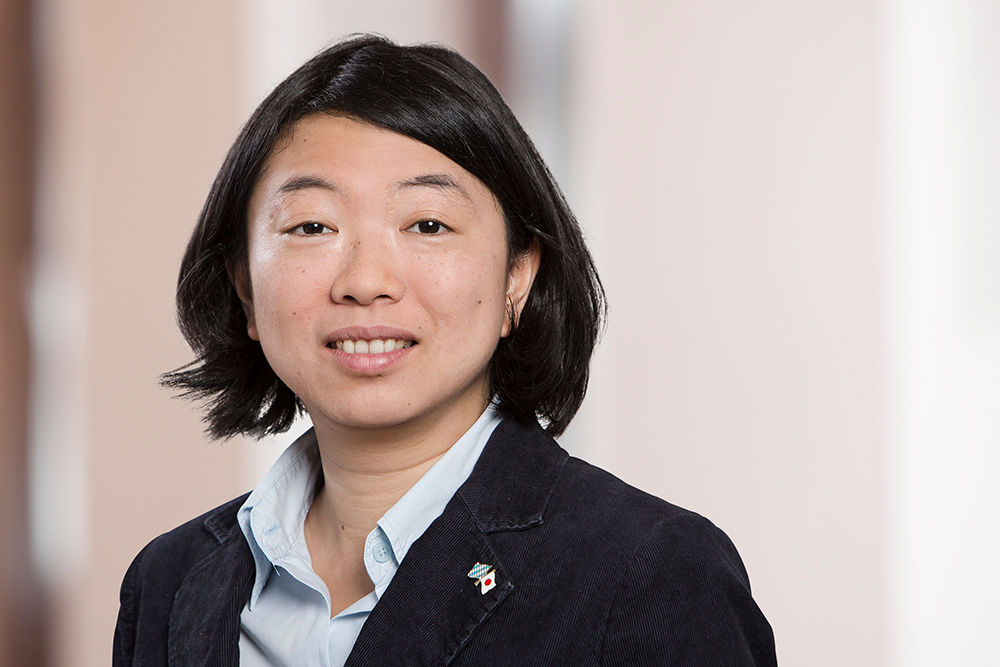 by Kaori Yamaguchi-Humpert
Investor Services Life Sciences